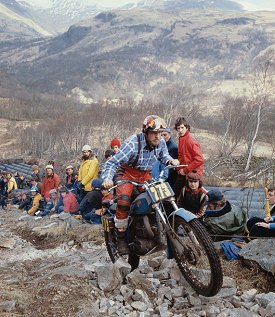 In just over a month's time the Scottish Highland town of Fort William will come alive as competitors from all over the world descend for the annual Scottish Six Days Trial (SSDT) that will take place from 6th to 11th May this year. Highly respected and long standing motorcycle journalist Mike Rapley will be amongst the masses who will be at this year's event. He explains why the SSDT remains so special as he returns to be a part of this magical motorcycle adventure forty-nine years after he first visited.

"I've said it before and I shall say it again," Rapley began, "the Scottish means everything to me."

"My passion for this fantastic event started a long time ago. I had just passed my car driving test back in March 1964 and had just turned seventeen and my Dad said - now you've passed your test, we can go and watch the SSDT and you can help with the driving!"

"So in early May we set off, Dad, me and a mutual friend. It was a new experience for all three of us. That year the trial experienced arguably the worst weather ever. Rivers flooded, oilskins and sou'westers were our permanent clothing, but for six days we stood out and enjoyed every minute."

"Eight years later I was able to enjoy the first of the four SSDTs that I actually rode. I had my best ever result finishing in sixty second place, yet strange as it may seem I remember little about that trial. I did have a puncture on the road, but somehow managed to fix it and at the end of the week I purchased an engagement ring for the girl who is now my lady wife of forty years."

Mike continued with a wry smile. "The 1972 Scottish certainly brought us together and Mrs R knows very well that whatever else may happen, the first week of May remains allocated for the Scottish."

"From 1978 and for the next twenty years I was able to attend the trial in an official capacity as a full time journalist. Most of the words covering those two decades upon which the trial was reported were mine, knocked out first on a typewriter in my bedroom at the now demolished Grand Hotel, then on a portable Amstrad computer and eventually on a laptop with the words electronically e-mailed back to Morecambe."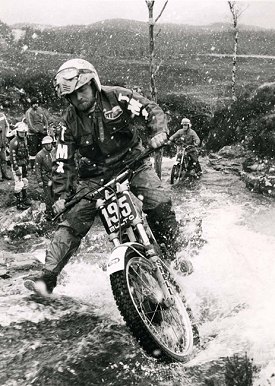 "And believe it or not, in the early eighties, together with Eric Kitchen, we actually developed and printed pictures in our hotel bathrooms and then laid out the copy and pictures on dummy pages which were then driven back to the office in Lancashire for typesetting on Tuesday morning." Explained Mike.

When asked about his highlights, Rapley replied. "I have now been to the trial thirty six times, I can honestly say that they have all been great and it's hard to drive home, knowing there's fifty one weeks before I can return. But perhaps the one single memory I have that outweighs all others is the atmosphere that could be cut with a knife at the finish of the 1990 trial."

"It was the year everybody thought that Robert Crawford had won, but eventually Steve Saunders was announced as the winner of the famous J R Alexander Trophy. It is probably the only time Steve wouldn't talk to me as a journalist looking for an end of trial comment."

Mike ended by saying. "Finally, my last ride was in 1996 and quite simply that was one too many, however here's looking forward to many more weeks in Scotland during the first week of May!"

To find out more about the Scottish Six Days Trial and spectating opportunities, please visit the website at www.ssdt.org.
Images by kind permission of Michel d'Awans and Eric Kitchen.