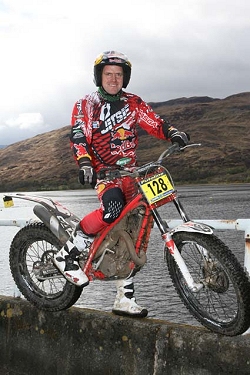 Dougie Lampkin - Gas Gas added yet another incredible achievement to his long list of illustrious career highlights when he won the Scottish Six Days Trial for a record increasing seventh time. Lampkin's winning margin of fifteen marks was one of the biggest in recent history of the World famous event and served to underline the sheer scale of his latest victory after six tough days of riding.

Dougie's win at the same competition twelve months ago already put him clear of both Sammy Miller and Mick Andrews who each won the SSDT five times, so now with seven wins to his name Lampkin has clearly elevated himself to a new status thanks to some exceptional riding over the last week. The thirty-seven-year-old ex multi FIM Trial World Champion took control of the event on day four and stretched his advantage as the severity of the sections and the wet weather increased.

Having not ridden in a trial competition since last October the long serving Red Bull athlete admitted that it took him a couple of days to get back into his rhythm, however despite some slight signs of rustiness Dougie was never far from the lead and completed day one for just a single dab. With a loss of just two more marks Dougie dropped to fifth overall after two days of competition, but was soon back in high contention come the midpoint of the trial as he trailed Wednesday's leader Alexz Wigg by only one mark.

It was Thursday when Lampkin began his devastating assault for a record seventh win by completing the longest day, with a course that stretched to almost one hundred and twenty miles, for the loss of one mark despite the tough conditions both on the ground and overhead. This typically gritty performance put Dougie in the lead for the first time in the week, a position he was not to relinquish over the closing two days.

Driving wind and rain did not deter Lampkin's attack on Friday as he moved well clear of the chasing pack when he produced by far the best ride of the day despite having to contend with fast rising water levels in the already swollen burns later in the day. Only an absolute disaster could have stopped Dougie collecting the famous trophy for a record seventh time on day six, but the 2012 SSDT winner was taking nothing for granted having already tasted how cruel the Scottish Highlands can be. Lampkin was forced out of the trial in 2011 whilst leading due to injury just a year after a mechanical problem had wrecked his SSDT assault on the opening day.

With both the relief and pure satisfaction showing on his face, Lampkin rode into the finish having further increased his winning margin at the end of day six and was naturally delighted with his week's work. "It feels pretty special to have won the Scottish Six Days Trial for a seventh time, as it is a very difficult event to win just once. The first two days were hard work as my riding was not where I wanted it to be, but from the middle of the week onwards things started to click and I began to feel comfortable in the sections which helped me open up a lead that I managed to keep right through to the end."

"It goes without saying that this is one of my favourite events, especially now I have won it seven times and already I am looking forward to coming back next May to defend my title."