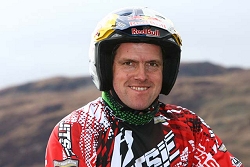 As the news of Dougie Lampkin's record extending seventh Scottish Six Days Trial (SSDT) victory filters its way around the world, it would be easy to take the thirty-seven-year-old's victory for granted especially when the margin of his win becomes apparent. However in reality the headlines do not tell the true story behind Dougie's road to his latest Scottish success, as the last six months have been anything but easy for the former twelve times FIM Trial World Champion.

Two operations, the first of which was meant to be a routine minor procedure and a second to rectify the initial unsuccessful attempt, within a four-day period late last year saw Dougie's health begin a worrying downward spiral. With his immune system effectively destroyed Lampkin faced a long road to recovery that was not without its complications, which ultimately forced him off his bike for a prolonged and frustrating period.

An intensive winter training programme that has included many miles in the saddle of a bicycle, as Lampkin also prepares himself for his summer pedalling challenge, followed by two months of daily trials practice put Dougie back in as good a shape as possible as he headed to Fort William late last week in an attempt to secure an incredible seventh win in the Scottish Highlands.

However the Red Bull athlete's last minute preparations were disrupted just two days before the start of the 2013 SSDT as he was forced to visit the local hospital to seek medication as the underlying issue with his immune system flared up at just the thought of the sheer task that he was to face over the coming six days as he explains.

"I couldn't believe it when I got the warning signs last Saturday morning, as I had been feeling the best I had felt for a long time. The medication takes a couple of days to kick in, but it's rocket fuel and doesn't make you feel the best before it starts to work. This plus the fact that I had not ridden a trial competition since last October made the first two days hard work."

"I was cleaning sections, but not the way I wanted to and was on the edge a little bit in places, however that is all part of The Scottish. Come Wednesday things had started to click which was good as it was my early day and I knew that I needed to stay close to the lead if I was to have a chance of winning come the end of the week," continued Dougie.

"Thursday proved to be the turning point and put me in front, but it was then that I started to feel the pressure. It took a bit to remember how to deal with pressure as it's been a while since I have been in that situation, but once I worked out what I used to do in these situations I felt slightly more comfortable," said the straight talking Yorkshire man.

"Going into the last day with such a big lead was strange too, as I have never been in that situation before. Normally things are much closer and you just have to attack, but this time it was different. The opening group on Saturday was really tough which was not what I was looking for, but once I escaped the initial sections for just a dab I knew I was on my way," stated Lampkin.

"It feels fantastic to have got a seventh Scottish win, and especially by such a large margin. I will definitely be back next year, although there are things I will do differently in the build-up to the event next May, as my preparations this year can be improved upon," ended Dougie in honest fashion.