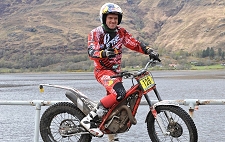 Dougie Lampkin (GAS GAS) made history last year when he won the SSDT for a record 6th time. He has just re written the history books by winning again this year making it 7 wins!
His performance this year was convincing losing only 11 marks over the six days. James Dabill was runner up on 26 marks with Gary Macdonald 3rd on 32 marks. I rode with Doug all week and it was an honour to do so to witness his every move. He looked a little shaky for the first two days and then from Wednesday morning onwards he was 'solid' and inch perfect everywhere.
Next best JST GGUK rider was Alexz Wigg who was 7th. Leader after 3 days but then wobbled later in the week. A mystery 'five' for a clean at Fersit on Thursday definitely unnerved him. Alexz finished with a bad day on Saturday to eventually finish 7th.
Dan Thorpe again finishes in the Top 10 with a great 8th place. Dan was also challenging for the lead earlier in the week. Nevertheless a Top 10 for Dan is a great result.
Sam Haslam started badly with his early day on Monday. He then rode steady all week eventually finishing 15th which I know Sam is not happy with.
Ben Morphett finished Top 20 with a good 18th place. Ben started good and had a scare on Monday when he drowned his bike crossing the stream.
Spanish Gasser riders Jordi Picola and Gabi Reyes finished 21st and 23rd respectively.
I finished 34th which is poor and Adam Norris thrashed me for the over 40 award. I had waaay too many fives because of not riding enough prior to the event. Nevertheless it was special week to ride with Doug.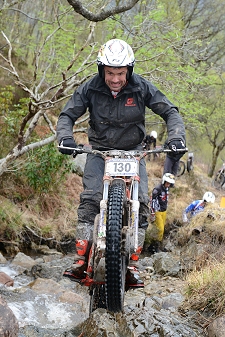 Jack Stones loved his first Scottish and finished with a special first class award in 39th. He also picked up the best newcomer award.
Katy Sunter had some great rides and showed Doug and I a few lines all week. She finished 116th which I think is her best result to date. I hope she has warmed up from Friday!
Special mention to our No.1 JST GGUK rider Michael Brown who was battling for the lead for 3 days and then had a freak accident in the paddock' on Thursday morning. Michael was changing a front wheel and whilst bending down his knee gave way forcing him out of the competition. He was ambulanced to the local hospital where an x-ray showed nothing broken. Michael gets a scan this Wednesday to see what damage has been caused. I'm gutted for Michael who is desperate to win the Scottish after his four 2nd places. To see him on the floor in agony was not nice and I rode to Chairlift on Thursday morning gutted. Michael will now almost certainly miss the next WTC in the USA next weekend. The next BTC is a month away so fingers crossed he'll be fit for then.
MANY MANY THANKS TO OUR GG SUPPORT CREW in the paddock. First Class service from our GGUK Factory Kev, Andy and Luke. Also thanks to GG Italia
Regards
Shirty