Nineteen year old Swedish rider Eddie Karlsson will make his debut at this year's Scottish Six Days Trial having been selected by Montesa to spearhead their factory presence at the World famous event. The highly likable Swede who is currently placed ninth in the 2014 FIM Trial World Championship has been taken under the mighty Honda wing this season, with team manager Miguel Cirera tipping Eddie as one of the stars of the future. Karlsson has never been scared of a challenge and after only one season in the Youth ranks at World level took the bold step of skipping the Junior category and moving immediately into the World Pro class.
Injuries and a lack of funding over the past two seasons have suppressed Eddie's real potential, which he can hopefully now begin to show thanks to the extra finance and support his move to Montesa has brought this year. Away from the World stage Karlsson has already enjoyed much success with him winning the 2013 UEM Trial European Championship to add to his three Swedish nation titles and hat-trick of victories in the Nordic series.
Born on Christmas day in 1994 in the Swedish town of Molndal, Karlsson will be amongst the many SSDT virgins who will be looking to become best newcomer at the end of their inaugural visit to the Scottish Highlands. Trials Central was lucky enough to catch up with Eddie to grab an exclusive few words with the Scandinavian teenager about his up and coming trip to Fort William.
TC: So what do you already know about the SSDT?
EK: If I am honest I don't know so much, I have seen some pictures and some short videos, but really I have not spent a lot of time studying about the competition. This could be a good or bad thing, we will have to see. I do know it is a tough race and that it always rains so I will be prepared for that.
TC: How does it feel to be Montesa's number one rider in an event in which they have so much history?
EK: It is a good moment for me, as Montesa has put a lot of trust in me to go to the SSDT as their only factory supported rider. Miguel asked to me to go and I was happy to say yes as it is a race I have always wanted to ride. You could say I have some pressure, but as this is only my first time at the SSDT there is no real pressure.
TC: Do you think the Scottish sections will suit you?
EK: From what I saw in the pictures I hope so, lots of rivers and lots of rocks, both which I like. Now we are riding no-stop in the World Championship I think it should not be so difficult to adapt to these kind of sections. I am really excited to ride them.
TC: What else are you looking forward to when you come to Scotland?
EK: I think it is a beautiful place from what I have seen and been told, so I think it will be a special experience. I don't drink so I will not be testing the famous whisky, but we are still working on if it is possible to ride in a kilt. I have asked Jitsie and they perhaps can make me a trials kilt.
TC: Finally, what is your goal for the week?
EK: I would like to finish in the top ten and to be the best newcomer, but I also know that both of these will be difficult to achieve as many riders ride so well at the SSDT. Let's see what happens, the most important thing is to enjoy every day, which is not so difficult when you love to ride your bike like I do.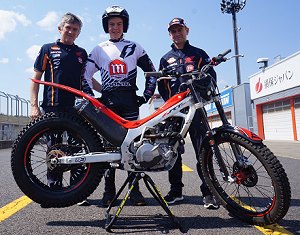 Trials Central was also able to ask Repsol Honda team manager Miguel Cirera about Eddie and the SSDT.
TC: Can you explain why the factory is sending the big support truck and Karlsson to this year's SSDT?
MC: Montesa has a long history at the Scottish and this is something we want to continue. This year the sale of production bikes has been good, and we want to demonstrate with Eddie just how competitive the standard model is, so he will ride a standard version in Scotland. He is a young rider who can be good in the future, so this is a good event to give him experience. It will be a tough week for him as the SSDT is a special trial and one that you need to learn over many years. We hope Eddie can make a good result and fight for the best newcomer award.
Copyright Trials Central. Produced in partnership with G2F Media. Cover Photo courtesy of James Duxbury.