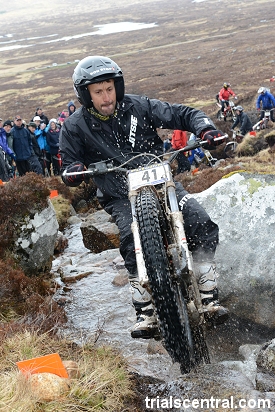 Continuing our exclusive series of interviews in the build-up to the 2014 Scottish Six Days Trial, which is now just a matter of days away with social media reporting many of the overseas competitors already making their way to the Scottish Highlands for their annual sporting holiday, today we chat to one of the best known of those riders foreign to UK shores, Jordi Pascuet.
Thirty five year old Pascuet from La Sue D'Urgell in northern Spain is no stranger to the Scottish Six Days Trial, having ridden his first SSDT back in 1998. His love affair with the Scottish has continued ever since and he remains a rider still capable of challenging the younger competitors, winning the Jimmy Beck Challenge Trophy for Best Overseas Competitor in both 2012 and the most recent edition in 2013 – an achievement he will be looking to repeat this year.
Pascuet was also a regular rider in the FIM Trial World Championship in the late 1990s and throughout the first decade of the 21st century and has continued his relationship with the prestigious FIM series, now working for the championship in the role of course adviser.
TC: Jordi, Scotland is approaching fast. What are your thoughts ahead of this year's competition and how have you been preparing?
JP: Well I haven't had time to train too much recently because I have been travelling a lot. In the last month I have been in Brazil, I have been in Australia and then I have been in Japan. That has left me short of time to train, but I like to ride in Scotland and I will try to do my best. This week I will try to train a little with the bike, but mainly I go to Scotland to enjoy the Trial.
TC: What is your goal? Which position do you think you can finish in?
JP: (laughs) Difficult to say! But I think this year if I can finish in the top ten then I will be happy!
TC: You are the best foreign rider coming to Scotland so is there a lot of pressure?
JP: No, not too much pressure. I like to ride there and I would like to have a good result, but I know all the riders, especially the English riders are riding really, really well there. I think the English riders are training a lot. For sure riders like Dougie and Dabill and Wigg and Brown, you can see that there are a lot of riders capable of winning and a top five place will be very difficult, but yeah – I will try!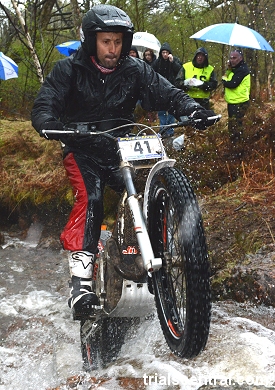 TC: Do you have a favourite group of sections?
JP: One day that I like a lot is Tuesday. I like Creag Lundie and Laggan Locks. Tuesday is the day I like. Normally I ride very good on the first days, but after that it gets more difficult!
TC: What's the best thing about Scotland?
JP: I think it is the atmosphere. It is something different, something special and if you like to ride your bike then you have to go there at least one time. I know I say this a lot, but that is what I believe. The people also are very special. It is a great experience.
TC: And the worst thing?
The Scottish is a lot of days and normally there is bad weather, especially for the Spanish people! Yeah, the weather has to be the worst thing. If I could choose I would have it in good weather!
TC: Jordi, thank you for talking to us and we'll see you in the parade on Sunday!
Copyright Trials Central. Produced in partnership with G2F Media. Images from Trials Central collection, 2013 SSDT.