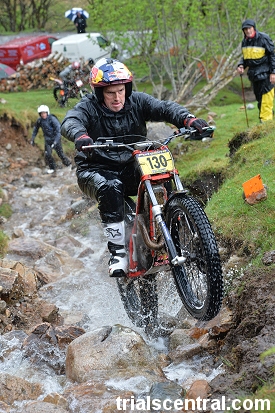 Vertigo teamster Dougie Lampkin has reached the halfway point in the 2014 Scottish Six Days Trial with a three mark lead over his nearest rival. The already seven times winner of this World famous event has yet to be headed in this year's edition of what is still regarded as the ultimate test of man and machine.
The ex multi FIM Trial World Champion enjoyed a three-way share of the lead on the opening day (Monday) before then taking outright command with his second consecutive faultless performance on day two (Tuesday).
Looking to achieve an incredible and record extending eighth victory in this classic Highland challenge, which was first held over one hundred years ago, Red Bull athlete Lampkin moved further clear of the field on Wednesday (day three) that marked the midpoint in this testing competition.
Wednesday proved to be the toughest day to date, with driving rain adding an extra dimension to a day that was always going to test Dougie's metal. Day three was Lampkin's early day, when it was his turn to ride first in the group rotation process that operates throughout the week to ensure a level playing field over the six long days of competition.
The Vertigo team member was forced to tackle the sections in their virgin state before the slime had been scrubbed off and the boulders had settled into a more defined path, which is the case once the two hundred and eighty entrants have passed through each of the thirty hazards on a daily basis.
Despite this extra level of severity Dougie typically got on with the task in hand and despite losing his first marks of the week at the steep and narrow waterfall at Grey Mare's Tail, he remained composed as he tackled the remaining hazards, some that were almost unrideable due to the rising water levels.
Soaked to the skin after several wet hours in the saddle Lampkin gave his thoughts on his week to date. "To be leading after three out of six days is a good position to be in,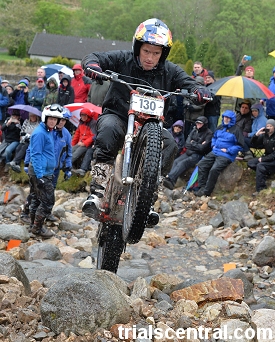 but in reality it counts for nothing as there are many more sections and miles to be ridden between now and Saturday afternoon."
"The first two days were relatively straight forward. " added Dougie. "There wasn't too much on Monday that was going to trouble the top riders and that was much the same on Tuesday too. I feel to be riding well and to be comfortable on the bike despite this being my first trial event of the year. That said I did rattle the footrests a couple of times against some decent sized rocks, which just goes to proves that you don't have to do much wrong up here to soon find yourself in trouble."
The Red Bull athlete continued. "No rider ever looks forward to their early day and I am no different. Wednesday looked like it could be a potential nightmare with the rain and high water levels in the burns playing havoc with the sections. I got slightly off line at Grey Mare's Tail and paid the price and was then lucky not to have totally drowned the bike later in the day, so both threes were definitely needed."
"I am happy so far, although there is a long way to go and work still to be done, so the job is far from being finished just yet." ended Lampkin before heading off to find some dry clothes.