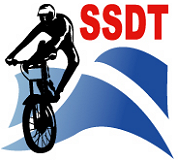 And so another Scottish Six Days Trial draws to a close. It's amazing how quickly the week passes - though we're sure that's not the case for the riders! On our final day we headed back down to Kinlochleven to the Lower Mamore sections then up to the group of sections on the slopes of Ben Nevis and finally down to the Parc Ferme to witness the tired, but happy finishers return to base in glorious sunshine. It's always a manically hectic week with 6am starts most mornings and late finishes, but it remains enjoyable - no matter what the Lochaber weather might throw at us! Our thanks go to (in no particular order) - John Lampkin and the crew at Beta UK for the company and the banter. It's always highly entertaining, Malc and Rhoda Rathmell, Mr. Eric Kitchen for the new toy - it's awesome! John & Liesel Dickinson - we've had some real laughs this week (I'm a lady!), Jake Miller for his help with the pre-event interviews and on the social media front during SSDT week and finally, and most importantly, to the SSDT organisers and those hardy souls who observe for the week. Without you it just wouldn't happen.
Full final results and awards from the 2014 SSDT can be found attached at the bottom of this article
Photo Coverage

Free Public Photos (16)
Trials Central Supporters Photo Coverage - Lower Mamore (143)
Trials Central Supporters Photo Coverage - Ben Nevis (123)
Trials Central Supporters Photo Coverage - Finish (23)
Trials Central Supporters photo images are higher resolution and carry no watermark. We make a small charge per year for access to this content which helps fund the extensive cost of covering these events. All images are our own and will not be seen anywhere else.
Previous Days
Video
Video is by John "Bigfoot" Hird and Matt Betts on behalf of the SSDT organisers.