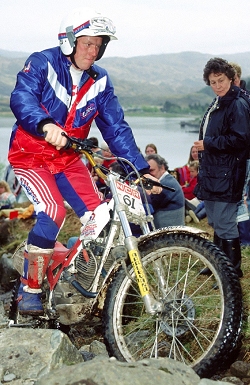 Martin Lampkin at the 1998 SSDTWhat do you do when the World Championship is done and dusted for another year and the British National scene has quietened down for the Winter period? Put your feet up and relax or do you drop a line to the guys at the Scottish Six Days Trial and ask if they'd like a new website? Here at TC we chose the latter and today, in partnership with the SSDT organising committee, we are delighted to launch the all-new online presence for the Scottish Six Days and Pre-65 Trials.
The Scottish is an event Trials Central has a close association with that goes back 25 years this year (is it really that long?!) and is an event that has become very dear to us. It can be said with absolute certainty that if it hadn't been for the SSDT, Trials Central simply would not exist. Our very first venture into this website malarkey was the first SSDT website back in 1999 (and absolutely awful it was too) so this really is full circle for us, but thankfully both web technologies and our abilities have improved somewhat since those early days. We believe there's a lot more to supporting the sport than just turning up with a camera and are delighted to once again be able to play our little part in helping and promoting what is without doubt the most famous Trial in the world.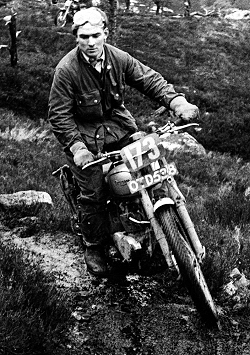 The legend that is Eric Kitchen in 1954Ever since its first inception, the SSDT website has mainly been used as a conduit for people to find out the latest news and results, however the Scottish Six Days Trial is an event with a long and colourful history that spans over one hundred years. Our plan with the new website is to carry on providing all the latest information, but also to make it a reference site for all things Scottish (and Pre-65). We already have many photos on the new site, including a vast collection of historical images very kindly provided by Mr. Eric Kitchen. Alongside that you'll find most of the daily results from as far back as 1989 and we will be expanding the historical side of the site on an ongoing basis. If you can help with photos from years gone by (pre-2000), past results or anything else that would be of interest then please get in touch via This email address is being protected from spambots. You need JavaScript enabled to view it.
With the festivite break now over and the 2015 SSDT ballot results due shortly, thoughts are already beginning to turn towards the first week in May. To whet your appetite, grab a coffee and head over to the new www.ssdt.org. As our sample images on this page show, Eric's very impressive photo collection alone is well worth the visit.