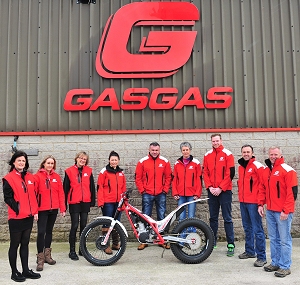 GAS GAS MOTOS UK LTD. are now looking towards the start of the 2015 British Championship season and with the SSDT only 6 weeks away we are fully committed to supporting all GASGAS riders as normal at this prestigious event. We will have the same standard of service in the SSDT paddock that our customers have had in the past years which im sure the riders are very grateful of.
We will have our chief spannerman Factory Kev Hipwell to 'assist' (not wipe your a***!) all GG riders plus 'another' qualified GG mechanic. Andy Hipwell will have more spare parts than needed up there but please contact Andy to register for the GG service.
Either phone him at GGUK on 01298 766814 or email him on This email address is being protected from spambots. You need JavaScript enabled to view it. with your rider and bike information.
ALL GG riders are important at the Scottish, not just the Team riders.
We will have a full Team JSTGGUK attack at the event and our goals are the same as normal, to have a GG winner (as we have had for the past three years) and to win the prestigious Manufacturers Team Award. JSTGGUK Team Manager John Shirt is proud of his 2015 Team including Michael Brown, Alexz Wigg, Sam Haslam, Gary MacDonald, Dan Thorpe, and Richard Timperley and will be pushing his riders to achieve the goals set. Michael is overdue a win at the Scottish and I hope 2015 will be his year. Alexz is a past winner and can win again if he keeps smiling! Sam was 'onfire' for four days last year so lets hope he can make it six days this year! Gary Mac has a massive amount of fire in his belly for his local favorite event and is probably the fittest Team rider we have. Gary will surely impress this year now he's back on a red bike!
Also of interest will be the currently well 'onform' Road and Trials GG rider Jack Price. Although Jack will be limited to a 125cc I'm sure he will impress and will deal with the wet and cold no problem.
GG girl Katy Sunter is again competing and aims for yet another finishers award.
Whilst some of our valued staff will be 'on holiday' in the Highlands, GGUK will remain open as normal back at the Buxton base as normal headed by our 'real' boss Jude Mellor and her GG staff.
To end…the attached picture shows our GGUK staff fully committed to GASGAS and to ensure that all GG riders will be looked after as normal either at you're at the SSDT or not.
Attached are two handy files, One is how to prepare your Gasser for the event and one is my advice on 'what to wear and carry'