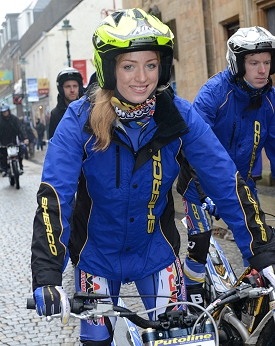 Sherco's Emma Bristow will be hoping to repeat her 2014 SSDT successSherco UK Importers, Malcolm Rathmell Sport, would like to confirm that they will be giving their usual excellent service at this year's SSDT to all Sherco riders.
This service is free of charge and MRS will give their support to all their riders with the aim of getting them all through the week without any problems and hopefully allowing them to enjoy their 'holiday in the Highlands.' They will be there is give advice and help wherever possible and with this in mind there will be a full back up, as usual, to achieve their objective of a trouble-free week for all.
Please telephone +44(0)1423 772885 to register beforehand for the event. MRS will need your full name, address, telephone number and card details to enable you to use their service for the week. You must register to receive the full back up service during the week.
Sherco boss, Marc Teissier, has always looked on the SSDT as the pinnacle of our sport and, as such, he will be riding himself this year along with his son Thomas and Sherco's top technician Josep Paxau. The factory will be sending the World Round Truck along with Albert Cabestany's mechanic, David Sarras, who will be hotly pursuing his way to Scotland after travelling back from Japan. For MRS this will be the 24th year Malcolm and Rhoda have attended and serviced at the SSDT and having ridden the event for 18 years himself beforehand Malcolm has invaluable experience in all aspects of the event, which he freely passes on to all Sherco riders.
MRS mechanic Phil Hammond will also be there along with Top Sherco Dealer AG Bikesport's mechanic 'Jacko' who is well known and respected in the world of trials, although he still spends a part of his year as a mechanic for a top BSB team. AG will be riding himself but he is always on hand to help and give any advice after having ridden each day himself.
We obviously advise riders to make sure their bikes are fully prepared before the event but are aware riders know this themselves as its an expensive week and the aim for everyone, including the rider, is to get their money's worth and complete the event! There is a lot written on Trials Central website regarding general mainenance and all these points obviously apply to whatever bike you ride but if you are in any doubt please do not hesitate to contact your local Sherco dealer who will be happy to help you service and maintain your bike before you leave.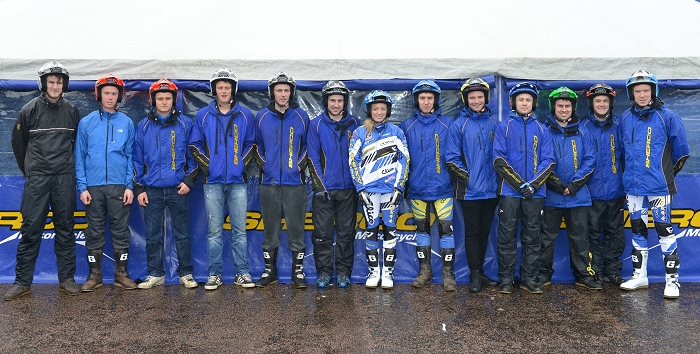 Sherco team ahead of the 2014 SSDT
Another added service Sherco have always provided is hot food and drink after each day's event, which is always warmly appreciated by all. Soup, sandwiches, fruit, cakes and the famous doughnuts are just a few of the items to look forward to after a hard day's ride.
Trials UK will be selling all our products at the event and we do have some special items which are ideal for the SSDT. The new Goretex All Terrain Gaerne boot has been very well tried and tested and been given full marks as the only Goretex trials boot on the market. You can also purchase the Gaerne boot with the Dry-Tec lining which is available in white, black or oiled brown. Clice have produced a special SSDT pant which is very durable and, at the same time, is made especially for trials and is comfortable and has protection where needed when ridingCan can be worn on their own or over your normal riding jeans. Axo make a very good waterproof suit as well as a waterproof lightweight jacket and pants which can be purchased separately. Riding up to eight hours a day investment in an Airoh helmet is another valuable addition as it is the lightest helmet on the market and brings it's unique Italian design and quality to a good range of hand painted patterns to choice from, as well as a carbon or plain coloured helmet.
If you are preparing the bike yourself all Sherco dealers can provide the full spares back up for preparation beforehand whilst MRS will provide this service throughout the week with Sherco spares, Michelin tyres, Galfer pads, Domino, RQF products and the usual items necessary for punctures which are invaluable during the event. Sherco produce a good selection of clothing which includes paddock jackets, softshell jackets, scarves, gloves and a stunning new designed set of riding gear all of which will be available in Scotland.
To view all our products go to www.mrsltd.co.uk. We look forward to seeing old and new friends in Scotland. It can be a long week but MRS always try to make the whole event a memorable experience whilst at the same time making every effort to help their riders. See you all in Fort William!