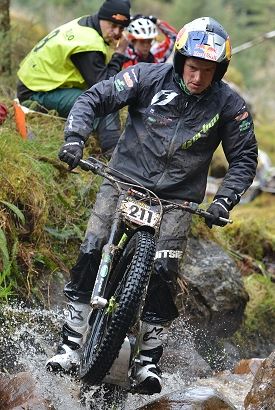 After the opening three days of the 2015 Scottish Six Days Trial (SSDT), which remains regarded as the ultimate test of man and machine, it is Vertigo factory rider Dougie Lampkin who leads the way aboard his prototype Combat machine. However it has been a tough first half to the current edition of this famous event for Dougie and all the other competitors, with day two proving to be one of the most difficult ever in the long history of the SSDT.

After a relatively relaxed and straightforward opening day the riders then faced a hellish ordeal on Tuesday with horrific weather conditions adding to a route that included many water logged moor crossings and was around one hundred and ten miles in total. Vertigo factory rider James Dabill was one of the biggest losers on a day when only eight riders completed the course in time.

Whilst Dabill had no problems at all with his prototype Combat, riding at the front of the field, he suffered heavy time penalties that would push him down the order. James was not alone in his ordeal with eights times SSDT winner Lampkin also losing marks on time for the first time in this event due to the severe conditions on the day. The two Vertigo factory riders joined most of the around two hundred and seventy strong remaining field in incurring time penalties on day two.

With the damage done Lampkin and Dabill held seventh and twenty-fifth places respectively after the second day with much work to do if they were going to contest the higher order come the end of the week. Wednesday brought brighter skies and a renewed confidence within the Vertigo team with all six prototype Combat machines ready for action once again.

Day three saw Lampkin and Dabill excel with the twelve time FIM Trial World Champion completing all thirty sections for no loss whilst the five time British Champion almost matched this feat by dropping only a single mark. These two outstanding performances had a massive impact on the overall rankings with Lampkin moving into the lead for the first time this week and Dabill pulling himself within touching distance of the top ten with three days still remaining.

Fellow Vertigo team rider Gabriel Reyes continues to enjoy a solid return to competition after an extended absence by currently holding thirty-sixth position overall whilst Paul Dixon is the fourth best placed Combat protagonist at the halfway stage. With both Axel and Manel Jane continuing to make good progress all six prototype Combat machines remain very much a part of the 2015 SSDT as the event moves into its closing stages.


Reflecting on the event thus far Vertigo Sports Team Manager Dougie Lampkin commented. "What a difference twenty-four hours can make up here in Scotland. Tuesday was the toughest day I have ever had in the SSDT and saw me lose marks on time for the first time. James was really unlucky being early on the day and paid a heavy price, the only good news was how well the prototype bikes stood up to the test."

"Thankfully Wednesday brought us better luck and allowed both James and I to recover ground on the leading riders. To claw back eleven marks in one day and to move into the lead was much more than I expected, but is something I will take after Tuesday. James rode well too and has put himself right back in contention. Also the other guys in the team deserve credit too. This is a real team effort and to have Gabriel and Paul doing a great job too is so important. And for Axel and Manel to still be battling on, fair play. Six bikes started and six are still going, therefore so far it is a great result all round."

"We are only at the halfway point so there is still a long way to go, but we will be doing our best to finish the job off in the best way possible."
Images from Trials Central SSDT collection in partnership with Vertigo Motors.