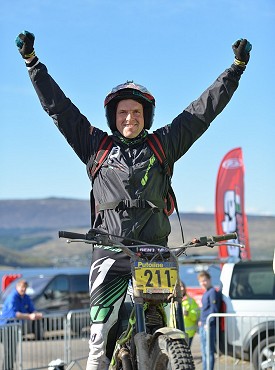 Red Bull athlete Dougie Lampkin added another reason for him to be regarded as the most successful and complete trials rider ever as he claimed a record extending ninth win at the World famous Scottish Six Days Trial (SSDT). This victory was one of the best even for Lampkin as he rode the all new Vertigo Combat to top spot on its debut at what remains regarded as the toughest test of all, especially for a modern trials bike. Following six body-battering days Dougie ran out a commanding winner with him having carved out an eleven-mark advantage over his nearest challenger.

This marks Lampkin's fourth SSDT win in a row (2012, 2013, 2014 and 2015) and adds to the other five victories he has secured since his first success in the event twenty-one years ago. (1994, 1995, 1996, 2008 and 2009). Over the century plus history of the event no other rider has won more than five times, Sammy Miller and Mick Andrews jointly being the next best in the Scottish honours list.

However Lampkin's latest triumph in the Scottish Highlands was anything but easy and needed the same gritty determination that has already taken the now thirty-nine-year-old veteran campaigner to twelve FIM World titles, ninety-nine Grand Prix wins and eight previous SSDT victories. Dougie started strongly on day one with a single dab, which was to put him in an initial sixth place on what was to prove to be a relatively easy and straightforward opening encounter.

Day two would prove to be an utter contrast as a route over one hundred and ten miles in length and atrocious weather conditions conspired to produce one of the toughest days the event has ever seen in its hundred year plus history. A fact that was reinforced by Dougie losing time penalties for the first ever time at the SSDT, as just eight riders finished within the allotted allowance. His eight marks for lateness plus his six on observation saw Lampkin slip to seventh overall, and worryingly eleven marks off the lead.

Like the true champion he so undisputedly is, Dougie used the deficit to inspire himself into one of the best comeback rides ever seen at the Scottish. Faultless on day three Lampkin came from eleven marks behind to move into the lead at the halfway stage and within a margin of two marks. Seeing Dougie's name on top of the results for the first time in the week will have been a worrying sight for all his rivals, as they will have been aware that the tough Yorkshireman never likes to surrender his advantage once out in front.

Day four, the longest day of the week, saw Lampkin up his game as he again went clean to increase his lead to a healthy seven marks ahead of his early day on Friday. With the sections in their most slippery and unsettled state Dougie riding at the head of the two hundred and seventy strong international field on day five risked losing his lead as he carefully edged his way around the peninsula route. Undeterred by the additional challenge the Vertigo factory rider posted the equal best score of the day despite his disadvantaged starting position he managed to carry an extended nine mark lead into the final day.

Despite the massive added pressure of being on the verge of securing an historic win for his new team, the broad shouldered Red Bull athlete held his nerve perfectly to post the best ride on day six, just a single dab, to seal an incredible and amazing ninth SSDT victory twenty-one years after his name was first etched on the famous trophy back in 1994.

Rightly over the moon with his latest Scottish win Dougie said. "I am struggling for words at the moment, as this definitely ranks right up there with the best of my wins both in Scotland and during any point in my career. To come up here on a brand new bike and to win by eleven marks is an absolute dream, especially after Tuesday, which was a real nightmare. Overall it has been a great week, but a long one at that. It doesn't get any easier riding round here the older I get and today felt like the longest day ever in terms of getting the job done."

"I want to thank the whole Vertigo team, as they have worked around the clock over recent weeks to be ready for the SSDT and have put so much effort in over several months to get the bike where it is today.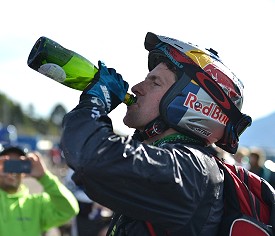 I also want to thank Paul (Dixon) and my cousin James (Lampkin) who have been a big help this week."

"It seems incredible to think that two years ago I met with Manel (Jane) in a hotel opposite the West End car park to first talk about the Vertigo Combat project and now just two years later we are here together winning the SSDT. I can't thank Manel enough for the trust he has put in me at this late stage in my career and I am glad that I have been able to repay him today. Right now I don't think there is a happier man on the planet than Manel!"

"Finally, it was a real shame my dad was not able to be here this week, as he has never missed a Scottish with me before, but I know he was living every section with me back at home and I am looking forward to him being back in Fort William next May when I will be going all out for win number ten."