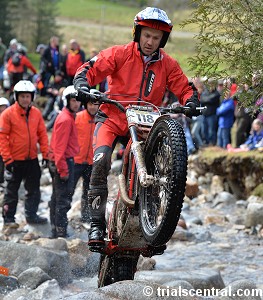 Gary Macdonald in action at Lagnaha on the opening day of the 2015 SSDTTeam JST GGUK Riders Gary Macdonald, Sam Haslam and Alexz Wigg have just won the prestigious Manufacturers Team Award at the infamous Scottish Six Days. Gary and Sam were also both on the podium finishing 2nd and 3rd respectively. Alexz finished 11th to help win the Team award which at the moment is great news for GAS GAS. This award means a lot at the moment and I'm pleased and I'm proud of these 3 riders.
Both Gary and Sam were 'fighting' for positions all week and both finished well ahead of 4th placed James Dabill. Gary, now back on GG since 2011 assured me that he would focus on the SSDT and he has delivered. Yes he has good local knowledge of the event but the added pressure of this can sometimes work the opposite but I'm pleased to say that Gary has delivered his best SSDT result to date so well done.
Sam Haslam has ridden well over the past years in Scotland and was having a great week last year lying in 2nd place after 4 days until he slipped finally to 9th. Sam's patience with this event has now paid off with a great podium which he thoroughly deserves. Sam has been in great form this year and I'm pleased to say he has recovered after the virus that affected him at the last BTC events.
Alexz Wigg was 11th. Alexz was not 'flowing' and was unhappy with his performance. I rode with Alexz all week and he had little 'lady luck' which you need in Scotland. He had a few too many costly mistakes which you cant have nowadays. Wiggy however never gave up and was smiling all week, possibly due to laughing at me! Alexz will be back next year and although unhappy with his performance enjoyed his week.
JSTGGUK rider Dan Thorpe had a steady week in 15th. Six good days and no nightmares secured Dan a top 15 result.
Road and Trials GG rider Jack Price had a great week for his first attempt finishing 24th. Jack had 5 fantastic days but struggled on the hard Tuesday being right at the back with rising water levels and had too many on time not helped with 125cc power. Both Jack and pal Billy Bolt were battling all week, both newcomers and both on 125s. Both riders were smiling all week and will only improve at this event. Well done to both.
I was 33rd, one better than last year, my 28th Special First Class Award and yet again thrashed by Adam Norris for the Over 40 award. I might try Adams preparation in riding NO events between Scottish's! I have ridden one trial in the last 12 months and Adam and I joked on 'way in day' that that is cheating! Well Done to Adam.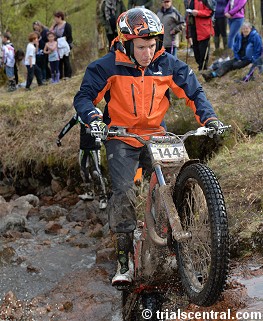 Sam Haslam ultimately finished third in the 2015 eventI was also beaten by pal Juan Knight after a week long battle. The tough Tuesday helped us both where we became Enduro riders for a few hours ha.
My bike was awesome thanks to Factory Kev.
Enjoyable week riding with Alexz Wigg, Rich Timperley,Richard Sadler and Shaughan Galway.
Thanks to Factory Kev, Andy Hipwell, Team italia (Andrea, Danielli, and Tommaso) for the first class paddock service.
Congratulations to all GG finishes.
And, finally, congratulations to winner Dougie Lampkin and Vertigo.
John Shirt Jnr
Images: Trials Central 2015 SSDT Collection