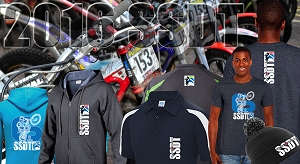 The Official Limited Edition Scottish Six Days Trial merchandise produced exclusively for the SSDT by sponsor Trials UK will once again be available for 2016. This one off designed clothing range is made especially for the 2016 SSDT and is on sale in parc ferme during the event for the extra keen fans and riders who make the trip to Fort William. For those not lucky enough to join in this unbelievable spectacle during the first week in May, the range is also available to worldwide customers by clicking on the Trials UK Saltire link on the SSDT home page or directly from this link from the beginning of May. Merchandise can also be pre-ordered now by calling +44 (0)1132 81 82 42. Web orders will go out following the SSDT as all stock will be on sale initially in the paddock near the start ramp.
Made from the highest quality soft materials and sporting a special large "6 day" graphic on the front with an attractive vertical SSDT on the rear between the shoulder blades on the T shirt and reversed on the hoodies. There are also fully embroidered high spec sport Polo's which are extremely smart and available in two colours. There are also hats, Mugs, DVD's and all manner of other merchandise to remind you of this World Class event.
When they are gone, that will be it for this exclusive range so dont hang around if you want a little piece of the Scottish!
Good Luck to all the riders and thank you to the many organisers and observers who make this trial the worlds premier event of the year!