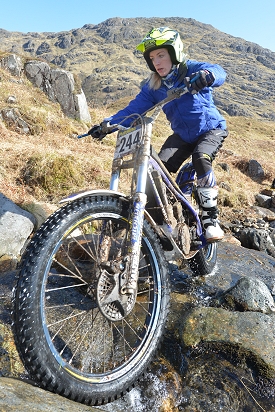 Sherco UK Importers, Malcolm Rathmell Sport will once again be in attendance at this year's Scottish Six Days along with the factory Sherco truck which will be parked in its usual place in the Parc Ferme. They will be providing their personal service and back up to all Sherco riders.
MRS personnel Malcolm Rathmell and Phil Hammond will be joined by David Sarras (Cabestany's mechanic) and they will all be on hand to assist riders in any way needed to try to help them complete the week.
They will also be providing their usual catering service solely to Sherco listed riders so when you arrive back in the Parc Ferme after a cold day on the roads and moors you can be sure of some good hot soup, along with sandwiches, snacks, fruit and the usual famous doughnuts!
To receive this service, it is essential you register with MRS before 27th April with address, telephone number and card details. Anyone not providing these details will not be able to enjoy the service Sherco give during the week.
You can contact MRS on 01423 772885
Email: This email address is being protected from spambots. You need JavaScript enabled to view it. - Please do NOT send credit card details via email!
As well as receiving spare parts, brake pads, RQF products, official Sherco and MRS team riding clothing and casual wear from MRS you can also purchase Airoh, Gaerne, Fist gloves and Kini clothing from either Trials UK or Highland Leisure Sport who are both present throughout the week in Scotland.
The 2016 SSDT will soon be here and we hope for a successful week for everyone andwe look forward to seeing you all there.