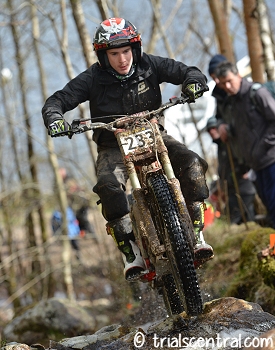 After a dull and dry start to Wednesday, the rain that has so far defined the 2016 Scottish Six Days Trial (SSDT) once again returned later during a day that saw Michael Brown – Gas Gas become the third different overall event leader in the opening three days of this historic competition. Brown dropped a single mark today to move ahead of yesterday's interim leader Dougie Lampkin – Vertigo who parted with three marks on day three. Just one mark separates this leading duo at the halfway point in the 2016 SSDT.
Monday's initial leader Joe Baker – Sherco dropped three marks on the third counting day. Now with a running total of thirteen marks, Baker has a seven-mark lead over fourth placed Gary MacDonald – Scorpa who also suffered his heaviest day loss of the week today. It was very much the same story for James Dabill – Vertigo who also parted with ten marks today to find himself in fifth position overall at the mid-point in this year's SSDT.
Former SSDT winner Alexz Wigg – Gas Gas was another front runner to endure a difficult day out on the Scottish hills as his daily score of thirteen marks saw him lose valuable ground to the riders fighting for the podium places. Sam Connor – Beta produced the best ride of the day as he remained feet up through all thirty sections to move up to seventh in the general classification.
Following Wednesday's routing, Jack Sheppard – Beta and James Lampkin – Beta now fill eighth and ninth positions overall respectively. Sam Haslam – Gas Gas recorded one of the best results today as he parted with only a single mark to match Brown and to slot in behind Connor in the top honours for day three. Haslam now finds himself inside the top ten, much thanks to a series of consistent performances during the opening half of the week.
Emma Bristow – Sherco, as in more recent years, is once again dominating the female class. Back inside the top fifty overall, Bristow now heads her nearest challenger Sandra Gomez – Gas Gas by over eighty marks.
Best newcomer Tom Hooper – Sherco continues to impress on his SSDT debut. With a loss of only three marks today and thirty-eight in total to date, Tom has now ridden himself into an amazing seventeenth spot overall and now holds an eleven-mark lead over his nearest rival Dan Peace – Gas Gas. Fourth in the main order, Gary MacDonald is by far the best Scottish rider, and barring a disaster is a clear favourite to lift this trophy come Saturday evening. The same can be said for Dougie Lampkin who is way out in front in terms of the over 40 class with three days still to ride.
Tomorrow's route at one hundred and twenty-one miles is the longest of the week, and not surprisingly history shows that Thursday can often prove to be a decisive day in the fight to win the SSDT. Featuring famous sections such as Chairlift, Ba House, Gorton, Loch Woods and the final group at Fersit the sheer challenge of day four cannot be underestimated by any of the remaining riders, irrespective if they are battling for the lead or simply looking to make it to the finish.
Download Day Three Provisional Results
Photo coverage
225 images today for our Trials Central Supporters, hi-res and unwatermarked. They can be accessed by clicking here
Trials Central Supporters Day Two Gallery (240 images)
Trials Central Supporters Day One Gallery (255 images)
Trials Central Supporters Day Zero Gallery (200 images)
Free Public Gallery