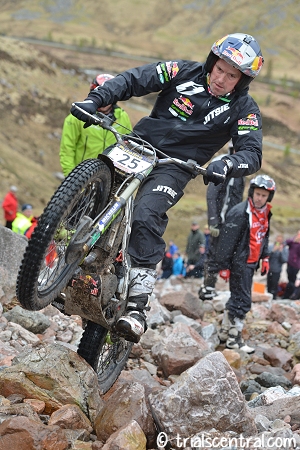 Better weather arrived just in time for the longest route of the week as the 2016 Scottish Six Days Trial (SSDT) served up its typically demanding Thursday excursion that was over one hundred and twenty miles in total. Defending SSDT champion Dougie Lampkin – Vertigo proved he was equal to the challenge by losing just a single mark on the day and in doing so regained the overall lead with two days remaining.
Lampkin now heads Michael Brown – Gas Gas by four marks going into day five after last night's leader dropped six marks today, his equal biggest daily score of the week, with his other six-mark total being on Tuesday. This principal pairing have now edged clear of the chasing pack with third place Joe Baker – Sherco losing further ground to his two main rivals, a situation that was worsened as Monday's leader suffered a five at the very last section of the day when his chain was derailed.
World Championship contender James Dabill – Vertigo has now moved into fourth spot thanks to losing only one mark today and will be aware that he will need to deliver two more strong closing performances if he is to claim a place on the podium come Saturday evening. Gary MacDonald – Scorpa persists in keeping local interest amongst the front runners as he lost four marks to maintain his place inside the top five of the overall rankings. This being after four days of competition that has included almost one hundred and twenty sections to date, and with sixty still scheduled to ride.
Jack Sheppard – Beta climbs to sixth overall as the rider from Suffolk continues to enjoy his best showing to date on terrain that is vastly different to that found in his home county. Southerner Sam Connor – Beta, who himself was an SSDT winner back in 2005, keeps seventh position overall as he once again confirmed his liking for this annual event in the Scottish Highlands.
More southern based riders in the form of Alexz Wigg – Gas Gas and Sam Haslam – Gas Gas, who are both great friends and fierce rivals, currently find themselves locked in eighth and ninth positions respectively as only a handful of marks separate many of the latter places in the top ten. Tom Sagar – Sherco has the honour of being the last rider listed in this elite club at this stage of the competition.
Showing no signs of tiring Tom Hooper – Sherco remains a revelation on his SSDT debut. Not only has he carved out a comfortable lead in his plight to take the best newcomer award, but he also continues to move up the overall rankings and now sits in fifteenth place. Top female rider Emma Bristow – Sherco enjoyed her best day to date to secure her place well clear at the top of the Women's class and also remains inside the top fifty overall. Gary MacDonald and Dougie Lampkin remain the clear favourites to walk off with the trophies for best Scottish rider and best rider over 40 respectively come the close of play on Saturday.
Friday is a real favourite for both riders and spectators with a good selection of sections being easily accessible throughout the day from the road, which weaves its way around the peninsula opposite Fort William and will offer the remaining competitors at least some relief after having already endured four tough days of holding the handlebars.
Download Day Four Provisional Results
Photo coverage
From day four, for our Trials Central Supporters it's circa 260 hi-res and unwatermarked images the sections at Clachaig, just south of Glencoe village and then the long walk up to the famous groups at Fersit. Access by clicking here
Trials Central Supporters Day Three Gallery (225 images)
Trials Central Supporters Day Two Gallery (240 images)
Trials Central Supporters Day One Gallery (255 images)
Trials Central Supporters Day Zero Gallery (200 images)
Free Public Gallery