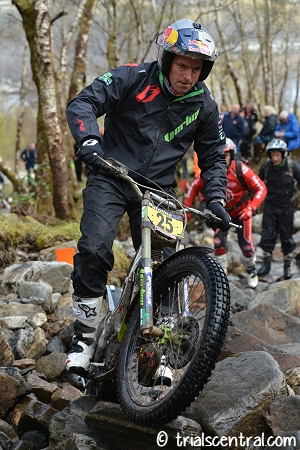 Finally, the sun shone brightly overhead as the 2016 Scottish Six Days Trial (SSDT) reached day five. Whilst there was a marked change in the weather, the name at the top of the leader board remained the same as Dougie Lampkin – Vertigo moved a step closer to clinching a tenth SSDT title. Lampkin was clean on the day to move six marks of his main challenger Michael Brown – Gas Gas who dropped two today and is realistically the only rider who can stop Dougie from extending his historic winning run at this event.
The almost one-hundred mile loop around the peninsula proved as popular as ever, especially with the better weather adding to that special Friday feeling that signals that the event is almost at its end. Two new groups of sections plus an extra moor crossing meant that time proved tight for some of the riders.
Two times SDDT winner James Dabill – Vertigo matched his team mate Lampkin by staying feet up throughout all of Friday's thirty sections to climb into third spot with just one day remaining. Jack Sheppard – Beta was also a man on a mission with his day loss of three marks seeing him move up into fourth position with a podium placing still a possibility.
Both Sam Haslam – Gas Gas and Alexz Wigg – Gas Gas also made progress up the overall order as they almost matched each other mark for mark today, dropping six and seven marks apiece respectively. They now occupy fifth and sixth places, but will be aware of just how close it is between them and the riders who have them in their sights.
Local rider Gary MacDonald – Scorpa was the one of the riders to suffer badly today as he parted with fifteen marks to slip to seventh spot with just one day to ride. Early leader Joe Baker – Sherco was another one of the big losers on the day, his heavy loss of twenty marks saw him fall from third to eighth spot in just one day.
Sam Connor – Beta also didn't find Friday's route to his liking as he dropped to ninth in the general rankings. For the first time this week Jonathan Richardson – Sherco moved into the top ten overall thanks to his ten mark loss today.
Whilst having slipped a few places down the overall rankings to eighteenth overall, Tom Hooper – Sherco continues to be by far the best newcomer, his ride on the small capacity machine has been one of the real highlights of the week. Equally, Emma Bristow – Sherco has once again shown her superiority in the female class and has dominated this category from day one as well moving up to well inside the top forty overall. Few would bet against both Gary MacDonald and Dougie Lampkin lifting the best Scottish rider and best rider over 40 respectively when the trial comes to a close tomorrow afternoon.
Although only short in its total distance of fifty-nine miles, Saturday's classic route that takes in Pipeline in the morning before potentially climaxing on Ben Nevis later in the afternoon, will be the most important and significant in determining the eventual winner of the 2016 Scottish Six Days Trial.
Download Day Five Provisional Results
Photo coverage
From day five for our Trials Central Supporters it's circa 340 hi-res and unwatermarked images the sections at Pipers Burn and then Meall Nam Each. Access by clicking here
Trials Central Supporters Day Four Gallery (260 images)
Trials Central Supporters Day Three Gallery (225 images)
Trials Central Supporters Day Two Gallery (240 images)
Trials Central Supporters Day One Gallery (255 images)
Trials Central Supporters Day Zero Gallery (200 images)
Free Public Gallery