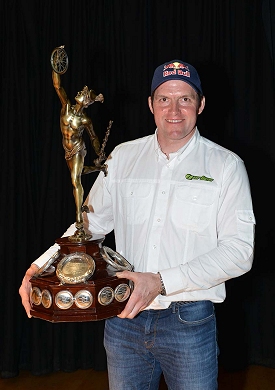 Image: Sir Eric KitchenEven at the age of forty years old Red Bull athlete Dougie Lampkin continues to rewrite the history books as he added a record extending tenth Scottish Six Days Trial (SSDT) victory to his palmares that also includes an impressive twelve FIM Trial World titles and ninety-nine Grand Prix wins. To put Dougie's latest achievement in to its true context, no other rider has won the SSDT more than five times during its more than one-hundred-year history.

Moreover Lampkin is not only the rider with the most SSDT triumphs, but now also holds the record for being the youngest rider to win it (aged eighteen in 1994) and also the eldest at forty years old this year. These facts are even more amazing when you realise that Dougie was absent from the event for more than a decade as he concentrated on securing his many FIM World titles.

Having given Vertigo an epic debut SSDT victory in May last year, Dougie arrived back in the Scottish Highlands just over a week ago with a whole new level of responsibility heaped on his broad Yorkshire shoulders following the recent and sad passing of his father Martin who lost his cruel year plus fight against cancer on 2nd April. Martin's absence from Fort William in 2015 due to him undergoing treatment for his illness had been tough enough for Dougie, as his dad had been an ever present and important figure at his side throughout his career, but this year it was always going to be even more difficult and painful for him.

With his normally meticulous and thorough preparations for now his single most important competition in the year derailed due to the situation with his father, Dougie's participation in the SSDT to defend his title was in serious doubt right up until three weeks prior to the start of the almost weeklong event. Knowing that Martin would have wanted him to ride and with the great support of his family and friends Dougie made the brave decision to attempt to win a tenth Scottish title.

Dougie's passage through last week was anything but straight forward with him having to effect a damage limitation exercise on day one due to his early starting number and then had to surrender the yellow leader board on Wednesday night, which is something he has never suffered before. However, from Thursday onwards Dougie was back at his best and had created a slight advantage over his main rival Michael Brown going into Saturday's showdown.

Few will ever be able to imagine the weight of responsibility and pressure that Dougie carried with him on the final day. When most would have buckled, especially when faced by some super tough closing sections, Dougie typically excelled and increased his eventual winning margin. Those present in the parc ferme on Saturday afternoon when he rode in to be met by his brother Harry and mother Isobel and witnessed the outpouring of emotion between the three of them will never be in doubt just what that his tenth SSDT win meant to him and his family.

Speaking afterwards Dougie reflected on his week's work. "It's difficult to put into words just how I feel right now as it has been an incredibly tough week both mentally and physically. Just a few weeks back I wasn't sure if I was going to be able to ride, but after my mum had a word with me there was no chance I was getting out of it."

"Practicing on my own has been pretty much impossible as it gave me far too much thinking time. So I had to revert to riding with the kids after school towards the end just to get a few hours in on the bike at least."

"It's been a massive week for my whole family, and especially for my brother and my mum. To have Harry ride with me all week has been brilliant, and then for my mum to come up and be at the sections later in the week was something very special and strong."

"It has been hard to keep my head together this week, but there was a job to be done and that was even more important when it came to Saturday. The ride back from Nevis Forest to the final section at Town Hall Brae was definitely a strange feeling especially when I thought about my dad."

"To have won a tenth SSDT title and a second for Vertigo feels amazing and is something I will remember for a long time and is hopefully in some small way a fitting tribute to my father. I can't thank my team enough for their support over the last few weeks both prior to the event and throughout all six days, they have played a massive part in this win."

Dougie ended by saying. "It's certainly been an emotional rollercoaster, but I want to come back next year and try and defend my title again, as after all the Scottish has been a big part of my life and a big part of the Lampkin family life now for well over fifty years."