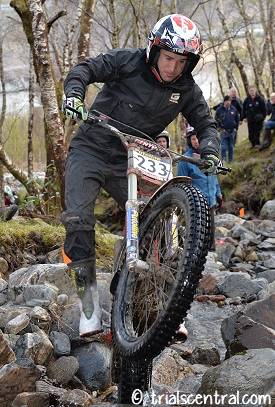 Michael Brown, with his second position, captained JST Gas Gas to a new victory for teams in the Scottish Six Days of Trial held in Fort William last week. Sam Haslam and Alexz Wigg, with excellent fifth and sixth positions respectively, backed up Brown's magnificent performance to finally take the Orkney Islands Medal awarded for the best team in the 2016 Scottish Six Day.
Brown put the cherry on the cake of what had already been an excellent week in a race where he was leader on the third day. A great performance which gave his teammates, Sam Haslam and Alexz Wigg, the necessary energy to achieve great results in the top ten, to finally finish in fifth and sixth places in this event which is both so special and historic at the same time. The wild beauty of the Scottish Highlands is unrivalled as scenery for the riders in this event.
The Team A Gas Gas riders were not the only stars of the show at the historic British event. The youngest riders also stood out with their presence in the results table. This was true of Dan Thorpe, sixteenth, and especially Dan Peace whose 27th position as a new rider in the SSDT won him theBen Nevis Challenge Trophy for second best new rider. John Shirt, our British Gas Gas importer, couldn't miss the event he knows better than most after many years' of participation. He achieved 41st position in the classification.
And last but by no means least, we have to mention the fantastic start made by Sandra Gómez with Gas Gas in the Scottish Six Days of Trial 2016. The rider from Madrid has just started with a new brand and she did in the best possible way with a second place in the women's category. After this she is taking home with her one of the best experiences in her life as a trials rider. And she wasn't our only representative in this category. Her team-mate, Katy Sunter, also managed to pick up the Finisher's Medal in Fort William, by finishing in the 132ndposition in the SSDT, which has already started the countdown to next year's event.