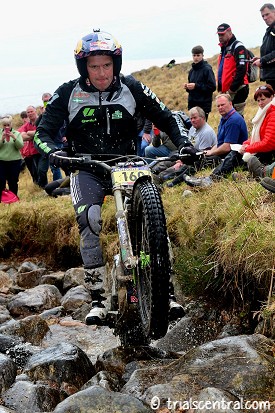 Day two of the 2017 Scottish Six Days Trial was again defined by unseasonably good weather as defending champion Dougie Lampkin - Vertigo finished unpenalised for a second day in a row to edge himself into a clear interim lead having initially shared the top spot with four other riders going into today. Lampkin's lone bike wearing the all-important yellow leader board will be an ominous sight for his rivals, who know full well just how reluctant the already ten time SSDT winner will be to relinquish it, although he has done so in the past.
The only other rider to remain feet up on the second day of competition was Spain's Jordi Pascuet - Gas Gas who now moves into second position overall having parted with a single dab yesterday. British teenager Jack Price - Gas Gas who will turn twenty later this month kept his assault on track with a daily loss of three marks to slot into third place with a third of the event now completed. Price has close company from his even younger compatriot Thomas Minta - Gas Gas whose performance in this year's Scottish to date is beyond his years.
Minta holds fourth position in the overall rankings this far and sits one mark in front of the much more experienced duo of Jack Sheppard - Beta and Gary Macdonald - Scorpa, fifth and sixth place holders respectively, who both dropped four marks apiece today after having gone clean on the opening day. A multi runner-up in past editions, Michael Brown - Gas Gas made his task of finally clinching an SSDT victory slightly more difficult as he slipped further away from the leaders despite moving up to seventh spot overall following a daily total of five marks.
After today's eighty-eight-mile route, and with the vast-majority of the almost three hundred strong entry still going strong, who are both enjoying and benefitting from the ongoing dry and warm weather, Sam Connor - Beta, Jack Stones - Beta and Chris Pearson - Sherco currently round out the top ten in a field that is packed with fierce and tense battles throughout. Although for many just to make it to the finish is a fight all-of its own and one worthy of praise and reward if, and when achieved.
In the other contests, Thomas Minta deservedly remains top of the Newcomers having now extended his lead to seventeen marks over his closest challenger Jack Spencer - Beta. It is a similar story for Gary Macdonald who has also stretched his advantage at the head of the charge to retain his title as best Scottish rider. Thirty fifth overall in the outright results Emma Bristow - Sherco continues to dominate the female class at this stage. As well as leading overall Dougie Lampkin already looks to have his hands firmly on the over 40 awards, as he once again bids to be the oldest winner of this event, a record he already holds.
Day three will follow a very much tried and tested route that will serve up another eighty-five miles as the remaining riders look to reach the halfway point in the 2017 SSDT.
pdf Download Day Two Provisional Results (75 KB)
Photo coverage
TC were out and about again, continuing to bask in the untypically Scottish sunshine, taking in the sections at Ardgour, Gearadh and then back North to Loch Arkaig.
Trials Central Supporters - over 200 photos from across the 3 groups, high res and unwatermarked can be accessed by clicking here
Free Public Gallery