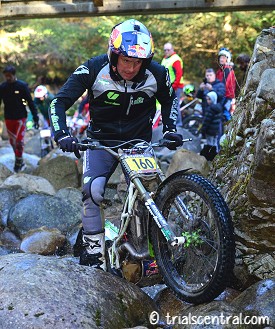 In what is becoming an extraordinary performance, Dougie Lampkin – Vertigo ended day four of the 2017 Scottish Six Days Trial (SSDT) still faultless having not dropped a single mark in the one hundred and twenty sections he has ridden to date this week. This achievement is made even more remarkable after Lampkin endured his potentially most difficult day thus far as he was one of the first riders through the sections when they were in their most slippery state.
Thursday is always a big day in the SSDT and although this year it did not follow its more traditional route it was still the longest day of the 2017 event and took in many of the famous and revered groups including Laggan Locks, Forest Gate, Creag Lundie and Witches Burn. Lampkin was one of only two riders to go clean on day four, his feat being matched by Sam Haslam – Gas Gas who has now moved up to ninth spot overall. In contrast Jordi Pascuet – Gas Gas started the day as the overnight runner-up but slipped to eighth place, as he added a hefty ten marks to his overall tally.
Pascuet's demise sees nineteen-year-old Jack Price – Gas Gas move into a clear second spot, just five marks behind the much more experienced Lampkin with two days remaining. Price now holds a two-mark gap over Michael Brown – Gas Gas in third place who has made rapid progress up the leader board over the last two days to still be in with a shout of the main prize over the coming two days.
Jack Sheppard – Beta remains in fourth position and very much still in contention for overall honours too. Sheppard has young Thomas Minta – Gas Gas for company, who sits only one mark back in fifth place. Minta deserves recognition as he continues to be outstanding on his SSDT debut. After his Pre-65 Scottish success local protagonist Gary Macdonald – Scorpa is also showing his skills on more modern machinery as he remains in sixth position.
SSDT stalwart and 2005 winner Sam Connor – Beta is enjoying yet another excellent week in the Scottish Highlands and has moved up to seventh spot on a total of just ten marks. Andy Chilton – Scorpa is another high performer this week and remains just inside the top ten after posting four consistent daily scores to date.
Emma Bristow – Sherco is more than matching her many male rivals, she sits just outside the top thirty overall and continues to totally dominate the Female class. Thomas Minta is now thirty marks ahead of Jack Peace – Gas Gas in the Newcomer category and is the clear favourite to collect this prize come Saturday afternoon. Two other clear favourites to win their respective class awards are Dougie Lampkin in the Over 40 division and Gary Macdonald as the best Scottish rider who are well clear of the chasing pack in both cases.
Friday, the fifth and penultimate day of competition remains a favourite with both riders and spectators alike and this year promises more of the same. Doire Damh returns after being absent for a few years. Pipers Burn, Roshven, Glen Uig and WD's will all be ridden before lunch. Whilst the afternoon run, which will return to the road for the first time in fourteen years, will take in the usual groups on route to the ferry with the riders having notched up ninety-five more miles.
pdf Download Day 4 Provisional Results (76 KB)
Photo Coverage
Still blessed with beautiful weather, it was an early start to be at Leanachen to catch Trial leader, Dougie Lampkin on his early day. From there it was the hour run up to the highly popular Creag Lundie sections which made a welcome return to the Trial after a break and finally a stop in at Witches Burn en route back to base.
Trials Central Supporters - 250+ images, hi-res and unwatermarked from todays sections - click here to access
Free Public Gallery