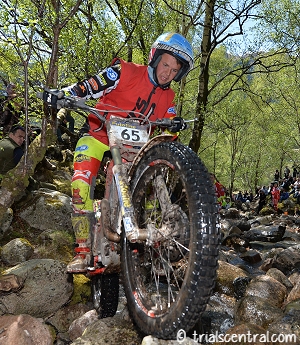 What an amazing week at the SSDT last week! TEAM JSTGASGAS UK have won the prestigious SSDT Manufacturers Team Award again in superb style with riders Jack Price 2nd, Michael Brown 3rd and Sam Haslam 8th.
Firstly a big congratulations to the Edinburgh & District Motor Club for a fantastic event. This was helped with amazing sunny weather and also the club has listened to their customers and made an extra effort to ease the event from a super tough event in 2016. I personally think this year's event was spot on with enjoyable routes and sensible time schedules. The low scores of the riders (especially Doug) were down to excellent riding and superb weather and not necessarily easy sections. Being able to see where you're riding makes a big difference.
Secondly I must congratulate the winner Dougie Lampkin and Vertigo. What an amazing lesson of concentration and focus to ride for six days with only 1 mark lost. There's nothing more to say about this incredible athlete who I'm proud to call a friend, amazing!
Now to GASGAS... We won the prestigious Manufacturers Team Award again which I am very proud of. To have 3 riders on the same bike winning this award means a lot to the brand. The JST GG A Team was Jack Price, Michael Brown and Sam Haslam.
We had 5 x GG riders in the Top 10
The first and second placed newcomers were GG riders with Tom Minta and Jack Peace.
JACK PRICE 2nd;
This was JPs only second SSDT ride and he's only 19 years old and lost only 9 marks. He kept his head for six days and rode very maturely with team 'mate' Michael Brown and myself. Jack really impressed me this year and I am sure he will be a SSDT winner soon.
MICHAEL BROWN 3rd;
I think this was one of Michaels most enjoyable SSDT rides to date. He smiled for 6 days and only made a few small mistakes. His confidence is back and thoroughly deserves his podium result, well done!
TOM MINTA 5th;
This was Tom's first SSDT and I think this could be the best result from a newcomer? Tom is only 18 years old and although I didn't see him ride a section I believe he rode confidently. Tom prepared well for the SSDT and it definitely paid off. Good on him!
JORDI PASQUET 6th;
A great result from Jordi who loves the Scottish. He no doubt rode round on tick over and hardly broke a sweat. His borrowed bike from GGUK prepared by Factory Kev and was not ridden until the parade on way-in day. Thank you Jordi and see you next year!
SAM HASLAM 8th;
I knew putting Sam in the A Team was not a gamble. I can always rely on Sam to be up there. He is very consistant and was 'best on day' on two days. His chilled riding style suits the SSDT and no doubt the banter he would have had with his mate Jack Lee kept his wry grin on his face. Even his father Ade smashing the wing mirror off the John Lee didn't fluster Sam who kept his focus.
DAN THORPE 13th;
Hard to keep this man from the A Team but this always fuels his fire and yet again Dan had a great result. Like Sam I can always rely on Dan to have a good result no matter what. Dan is the role model to all my younger team riders in many ways. He is a sponsors dream and the reason why he is a fixed asset here at GG. He has a GG ride for life and is not for sale!
JACK PEACE 17th;
A great performance from Jack who watched Michaels and JPs every move. He does have a lot to learn and he had a perfect first time with Michael, JP and myself. I am however concerned that when normal weather resumes at the SSDT can Jack cope because he was the only rider to wear waterproof pants for all 6 days haha !
JOHN SHIRT 28th;
Nice to finish my 30th SSDT in the Top 30. All I can say is that is was a pleasure riding this amazing event in the sun watching my team mates. I love my 250 and they are in stock today!
Thanks to Factory Kev for preparing mine, Michaels, JPs, Jack Peace and Jordi Pasquet machines which were perfect all week.
Thanks to my loyal GGUK staff both in the paddock (Andy and Corin) and those back at the Buxton base.
Thanks to Tom Knight for paddock help.
Thanks to our Spanish and Italian GG colleagues Tommaso, Edu and Bombi.
SSDT 2018 bring it on!