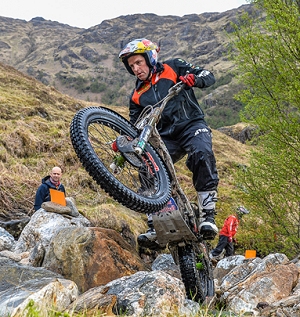 Just a few days before the publication of his autobiography - Trials and Error, Red Bull athlete Dougie Lampkin - Vertigo added yet another chapter to his long, illustrious and unequalled riding career as he sealed a record extending twelfth Scottish Six Days Trial (SSDT) win after a tense final day showdown.

Forty-two-year-old Lampkin made it four victories on the bounce for Vertigo, seven in a row for himself and took his tally to twelve triumphs in an event that has not been won more than five times by any other rider in the hundred year plus history of this unique and iconic event.

Dougie's latest success was a real battle of attrition and called upon every bit of his great experience and dogged determination as he fought to keep himself in contention going into the sixth and final day of week that was defined by heavy rain and a technical issue that threatened to thwart his efforts to get his hands on the famous trophy yet again.

Unlike recent editions where Lampkin has taken early control of the event and then dominated throughout the rest of the gruelling competition, this year the reigning SSDT champion found himself having to play catch up as he never led the event until the closing few sections on Saturday afternoon.

Lampkin set up a tense and thrilling finale with a stunning single dab ride on his early day on Friday, when he was forced to tackle the sections around the peninsula when they were in their most slippery state. Trailing week-long leader James Dabill by two marks going into day six, Dougie knew he would need to be at his absolute best if he was going to turn the tables on his fellow and ten year younger fellow Yorkshireman.

Holding his nerve perfectly and riding out of his skin, Lampkin parted with only one mark on Ben Nevis for the day and was ready to pounce as Dabill ran into trouble four sections from home. After one hundred and eighty sections, more than five hundred miles in the saddle over six long days Dougie's winning margin was a mere three marks.

Both relieved and delighted Dougie said. "I wasn't too sure that it was going to happen this year, as James has been riding so well all week and after a shaky first day and problems with the bike since late on Tuesday I have just been trying to stay in touch."

"Things certainly haven't gone to plan this week, but that is when you have to dig deep and be thankful that you have a great team around you who all know what to do when the going gets tough."

"After Friday I knew I was in with a shout, but I also knew that it was going to be difficult to out ride James as he has been on top of his game since Monday. I know from my own experiences that you need to be riding well and to have luck on your side to win the SSDT." Added Dougie.

"Unfortunately for James his luck ran out very late in the day, and I know how gutted he will be, but the Scottish is never over until you have ridden through the end cards of the very last section."

Lampkin ended by saying. "It feels amazing and incredible to now have twelve SSDT wins to match my twelve World titles, the problem is my hunger for winning has still not gone away yet."