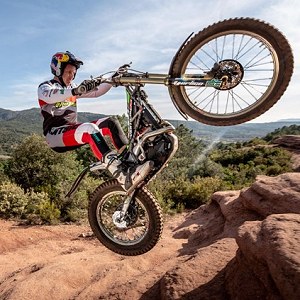 In just under two week's time long standing Red Bull athlete Dougie Lampkin will begin the defence of his Scottish Six Days Trial (SSDT) title, as the now forty-three-year-old goes in search of a record extending thirteenth win at what remains the single biggest event in the international Trial calendar. No other rider has won the event more than five times in the hundred plus year history of this iconic competition that takes place in the Scottish Highlands each May.

As has now become the normal pattern in more recent years, Dougie has spent the last ten days or so in Spain at the Vertigo factory making his final SSDT preparations, this time joined by his eldest son Alfie who made his debut at the Spanish championship on the all new Vertigo Vertical 125R over the first weekend of their southern European trip.

After an important few days of testing Dougie and Alfie then headed into the mountains north of the Barcelona based factory to compete in the forty eighth edition of the Santigosa Three Day Trial that continues to attract some of the World's best riders amongst its almost two hundred and fifty strong entry.

In addition to keeping a watchful eye over and offering his aspiring son plenty of words of encouragement, Dougie focused on the serious business of putting himself in contention for overall honours once again as he showed that his many hours of practice back in his native Yorkshire over recent months has put him in good shape up against the quality field. After the opening thirty-one sections on day one Lampkin held a share on the lead as he remained faultless throughout aboard his Vertigo Vertical 300R that had rolled off the production line just a few days earlier.

Day two saw Dougie in equalling good form with the loss of just three marks over the same number of sections to hold second spot and be only one mark off the lead going into the third and final day of competition. Remaining as focused and determined as ever Lampkin pushed eventual winner Miquel Gelabert right to the final section and only missed out on the top prize as he lost out by a mere two cleans on a tie-decider as both riders finished the event locked on six marks apiece.

Factory Vertigo lead rider Jorge Casales also shared the same overall score but lost out to his more experienced team manager on a similar tie-break situation, as Vertigo saw two of its riders take to the podium, and Lampkin claim a convincing win in the veteran's class for the second year running.

Pleased with his SSDT shakedown Lampkin said: "I have been happy with my practising back at home, but you are never sure where you are up to until you turn up and ride against other riders. Like the last few years the timing of the Santigosa Three Day Trial is perfect for the SSDT. It means I can spend some time at the factory to do a last bit of testing ahead of getting an important event under my belt before going up to Scotland."

"To be able to mix it with both Gelabert and Casales, who are both ranked top ten in the World at the moment, over three days and ninety plus sections is a great confidence boost with the trip to Fort William now less than two weeks away. Equally pleasing is the performance of both mine and Alfie's bikes, which has been brilliant and puts us in good shape going into the SSDT." ended Dougie.