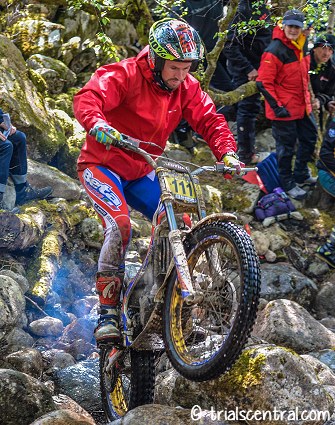 Factory Beta rider, James Dabill has won the 2019 Scottish Six Days Trial and finally brought Dougie Lampkin's run of seven straight victories to an end and thwarted the Vertigo factory ambassador's aim of a thirteenth victory in the Edinburgh & District Motor Club's famous event. James was actually the last rider to win the Scottish before Lampkin's incredible run and that was back in 2011 when he was also Beta mounted. It was his third SSDT win in total, his first being back in 2007 on a Future Montesa.
The battling duo went into the final day separated by just two marks with Dabill holding the advantage in a repeat of the final day scenario of 2018. However, whereas he snatched defeat from the very jaws of victory last year when a flat tyre caused a crushing five on Ben Nevis, this year fate was on his side.
Both riders arrived at the crucial Ben Nevis group without having parted with a single mark. The two final sections on Ben Nevis were once again the hardest of the day and arguably of the week. Lampkin arrived first and needed a big dab just after he entered the first section. Dabill, some 20 riders behind Lampkin, rode this section with ease and edged the lead to three marks.
On to the fourth and final section of the group, which was the fateful one for Dabill last year. Just as Lampkin had done in the previous section, Dabill took a big prod after he lost the front wheel on a slippery rock, but then holding his nerve positively, he got the Beta back on track to complete the section without further loss. It was all over, bar the shouting and James had set the record straight.
After the event, James said "There was tremendous pressure all week but I actually rode the bike quite relaxed. It obviously means a lot to beat Doug in this event as he just doesn't give up and you can't afford to lose a mark!"
Doug took defeat gracefully but jokingly said he was "...going to sulk for a week!" in the post trial interview.
Best performance on the final day was actually posted by Jack Price (Gas Gas) with a superb ride for zero marks, but even this effort was not quite enough to net him the final podium position. That honour was earned by the persistent Dan Peace (Sherco) whose single mark ride was enough to retain a hard earned third place.
Michael Brown finished just behind his Gas Gas teammate, Price after threatening a podium place all week while Iwan Roberts waved the TRRS flag with sixth place, a final day late five ending Iwan's own podium chance.
World and British Women's champ Emma Bristow, on the factory Sherco, not only stormed to a phenomenal win in the Ladies class, she also finished an incredible 29th overall, almost two hundred marks ahead of Jess Bown (Scorpa) and Jess had a more than capable ride, only just failing to make the top 100. All nine girls who competed in this year's Scottish deserve total respect.
French debutante Benoit Dagnicourt (Vertigo) romped to the Best Newcomer's award, dominated by foreign riders whilst Andy Anderson (Scorpa) eventually pulled away from Joe Dawson (TRRS) and local rider Calum Murphy (TRRS) to take Best Scottish Rider. Inverness clubman Danny Sutherland (Gas Gas) nailed the Scottish Newcomer award.
It was no consolation to Lampkin that he walked away with the Over 40 trophy from cousin Ben Hemingway (Beta) and Gas Gas stalwart Dan Thorpe while Scottish rider Stuart Mack (Beta) was the proud winner of the Services award.
So ends the 2019 Scottish Six Days Trial. The organisation, the weather, the hard-working officials and the riders and supporters all made for another fantastic week of real trials.
Results
pdf Download Day Six Results (139 KB)
pdf Download Provisional Final Results (197 KB)
pdf Download Trophies & Awards (259 KB)
Photo Coverage