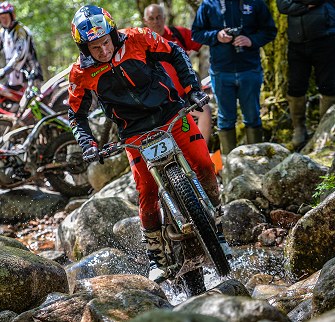 Looking to secure a record extending thirteenth win at the Scottish Six Days Trial (SSDT), Red Bull athlete Dougie Lampkin - Vertigo came agonisingly close to reaching his goal as he finished runner up at the 2019 event just two marks behind eventual winner James Dabill. Lampkin headed into the final day of competition at the historic event in the Scottish Highlands - which he has dominated for the last seven years - trailing week long leader Dabill by two marks after one hundred and fifty sections and five days in the saddle.
Using his vast experience Dougie did everything within his power to make it eight victories on the bounce and looked to repeat his last day come back as he had done twelve months ago, when he had managed to overhaul Dabill to take his twelfth win at the 2018 SSDT. Despite applying the utmost pressure, as he rode ahead of his rival on the road, Lampkin could only match Dabill on day six as they both parted with a single dab through the closing thirty sections leaving Dougie two marks shy of victory on this occasion.
Whilst having done little wrong all week, the Vertigo ambassador found himself playing catch up from the first day as a single mark in the second group on Monday saw Dougie trail Dabill, as the two-time winner went clean on the opening day. Lampkin was to fall further behind his main rival on Tuesday, as he fell foul to a super slippery section - unused for the last two years - on his early day. His daily score of three - all lost in the one hazard - and overall tally of four dropped Dougie to third spot come the close of day two and four marks off the interim lead.
Some solid riding by Dougie on day three saw him close the gap on Dabill to three marks as the competition reached its halfway point. An unusually easy array of sections on Thursday, often regarded as the toughest day of the week, saw the leading duo remain clean on day four and as they remained locked in battle for the top spot going into the decisive two days. Lampkin ensured it was going to be a tense finale as he parted with one mark on Friday compared to the two-mark loss for Dabill, to move within two marks of the leader going into Saturday's showdown.
Unfortunately, it was to prove an unlucky thirteen for Dougie as he missed out on the main prize this year by the narrowest of margins.
Doing his best to hide his disappointment Lampkin was typically gracious in defeat. "Firstly, I want to congratulate James, he has ridden well all week and has not put a foot wrong. To lead from Monday and to take the win will hopefully make up for him missing out on the final day last year."
Dougie continued. "Obviously I am gutted as I came here to win and have given absolutely everything I had, so to miss out by just two marks especially after Tuesday is hard to take, but that's all part of riding the Scottish. I have been really happy with my riding all week and when you get to my age that is an achievement in itself. The new Vertigo Combat R has also proved itself having not missed a beat all week."
Allowing himself a slight smile despite the circumstances, the undisputed King of the SSDT ended by saying. "At the age of forty-three I have shown I can still fight with the best of them and I have already started to think about how I am going to take the trophy back off James next year."