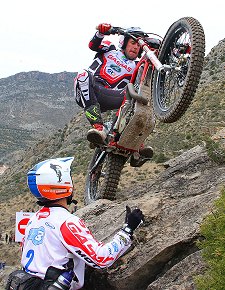 In the second race of the National Trial Championship, the official Gas Gas team rider Adam has achieved an excellent second place, and this keeps him in the same position in the championship. The starting order made Adam Raga one of the first riders out, after Albert Cabestany, despite the Ulldeconan's success in improving the performance of his predecessor in the zones, this has not been good enough to get a low score, something that Toni Bou has achieved, and was the winner of the race, in which he started from behind and has benefited from that position in the draw, which gave him easier zones.

A single five in the second zone and some loose points for the rest of the sections, has given the Gas Gas TXT 300 R rider after two laps of 12 zones, an ending score of 13 total points , two less than Jeroni Fajardo, who finished in third place.

Highlighted in the fifth position was the Galician youngster Jorge Casales. The member of the young talent program known as the Gas Gas School of Champions, he has confirmed his progression, with a smooth ride, though not without some youthful mistakes, finishing in fifth place, not far from experts such as Albert Cabestany and closing an important point gap with other riders in the race.

In the provisional standings of the Spanish Trial Championship, Adam Raga is in second place, moving ahead of his pursuers by six points, the same as he is separated from the championship leader. Jorge Casales takes hold also in fifth place, also six points away from the third position.

The next round of the National Trial will be held on May 12th in the town of Manchego Sigüenza (Guadalajara). Before, however, will be the last round on the schedule for the World X-Trial Championship. In Nice (France), next Friday Adam Raga has many options to be proclaimed Sub-World Champion before the outdoor World Championship begins in Motegi (Japan), on the 27th and 29th of this month of April.

Adam Raga: "I think I rode pretty well. I went in front, with only having Cabestany for reference, but I'm happy with how the day went. I just made ​​a big mistake in the second zone, then in the second lap I rectified it, scoring one point in that zone. The race was not easy. It was snowing and the zones have been a little wet despite the sun. As I said, I'm happy to finish second, maybe I could have done better, but I have a good feeling ahead of the World Indoor race this coming Friday ".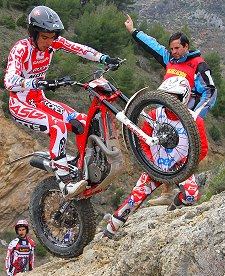 Spanish Championship, TR1 Arnedillo
1. Toni Bou 2 points
2. Adam Raga, Gas Gas 12 points
3. Jeroni Fajardo 15 points
4. Albert Cabestany 23 points
5. Jorge Casales, Gas Gas 28 points
8. Pere Borrellas, Gas Gas 60 points
9. Francesc Moret, Gas Gas 87 points

PROVISIONAL SPAIN CHAMPIONSHIP TR1
1. Toni Bou 40 points
2. Adam Raga, Gas Gas 34 points
3. Jeroni Fajardo 28 points
4. AlbertCabestany 28 points
5. Jorge Casales, Gas Gas 22 points
6. Pere Borrellas, Gas Gas 18 points
9. Francesc Moret, Gas Gas 15 points
10. Jesús Martin, Gas Gas 6 points
11. Gianluca Tournour, Gas Gas 5 points