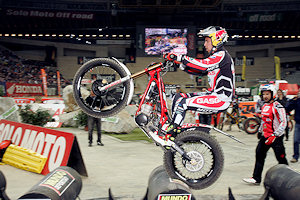 Gas Gas team rider Adam Raga, finished in fourth place in the latest round of the Spain Indoor Trials Championship, as the City of Girona Indoor Trial, was held this weekend.

Two errors condemned the efforts of Adam Raga in the second and final round of the Spain Indoor Trial championship, held in the Fontajau Pavilion in Girona, where he finished fourth. This final National round has had no options for the riders to recover from errors and in most the sections have been rather easy, in the rest, the participants have accumulated one or the other, 0 or 5 points.
In the first round, a small error by the rider at the controls of his Gas Gas TXT Pro 300 Factory Replica put the kibosh on a great 2013 season for the Gas Gas rider, finally leaving him out of the final, qualifying in fourth position, both in the race and the general standings of the competition.
In this second National Indoor Trial, two other Gas Gas riders also participated, Francesc Moret and Pere Borrellas, having ranked sixth and seventh in Girona, finishing fifth and seventh respectively, at the end of the championship.
RESULTS
Indoor Trial 'Ciudad de Girona'
1. Toni Bou, 7 points
2. Albert Cabestany, 12 points
3. Jeroni Fajardo, 23 points
4. Adam Raga (Gas Gas), 19 points (semifinals)
6. Francesc Moret (Gas Gas), 27 points
7. Pere Borrellas (Gas Gas), 29 points
Final Indoor Trial Spanish Championship
1. Toni Bou, 30 points
2. Albert Cabestany, 22 points
3. Jeroni Fajardo, 19 points
4. Adam Raga (Gas Gas), 16 points
5. Francesc Moret (Gas Gas), 10 points
7. Pere Borrellas (Gas Gas), 6 points
8. Jorge Casales (Gas Gas), 4 points