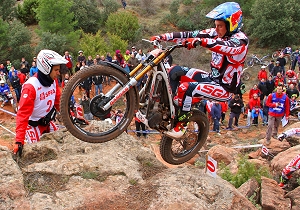 The town of Siguenza in Guadalajara saw the opening round of the pinnacle of Trial Championships in Spain today where Gas Gas riders Adam Raga and Jorge Casales finished in third and fifth place, respectively.
The Spanish Trial Championship started today in the town of Siguenza, with a demanding race. In TR1, the main championship class, the participants in this first round enjoyed some new sections from those seen in previous races at this location, and with the draw for the starting order, Adam Raga was the second rider to face the sections where he suffered a slight injury. The Gas Gas rider made a few errors and with rain making the first sections harder, despite finishing the course with a good ride, he was unable to prevent other riders from having lower scores.
Young Jorge Casales, with some flashes of brilliance, managed to finish fifth, very near to the other more experienced riders. The rider from the Gas Gas the School of Champions is showing a definite improvement this season.
In TR2, the new member of the Gas Gas School of Champions program, Arnau Farré, finished in third place on the podium in his category. This was the second round of competition for riders of this level, and the very young rider from Lleida was much improved compared to the previous round.
The next race for the Gas Gas Trial Team riders will be April 12th and 13th at the opening round of the Trial World Championship to be held at Mt. Tarrengower, in Australia.
Adam Raga
: "I failed in the first sections, in section 2, 4 and 5, mainly. All other areas, I think I've done pretty well because it was complicated; there were long sections without much reference as only Toni had passed before me. Also we have had to manage time because the race was delayed. 
I've felt good physically, and only those few errors of my line and technique. Toni has done really well."
RESULTS
Trial de Siguenza
1. Toni Bou, 3
2. Albert Cabestany, 13
3. Adam Raga (Gas Gas), 24
4. Jeroni Fajardo (Beta), 30
5. Jorge Casales (Gas Gas), 39
8. Gianluca Tournour (Gas Gas), 116

TR2
1. Miquel Gelabert, 12
2. Marcos Méndez, 20
3. Arnau Farré (Gas Gas), 22
4. Víctor Palomares (Gas Gas), 29
5. Nacho Fernández-Sancho (Gas Gas), 51
Spanish Championship Standings
1. Toni Bou, 20 points
2. Albert Cabestany, 17 points
3. Adam Raga (Gas Gas), 15 points
4. Jeroni Fajardo (Beta), 13 points
5. Jorge Casales (Gas Gas), 11 points
8. Gianluca Tournour (Gas Gas), 8 points
TR2
1. Miquel Gelabert, 37 points
2. Marcos Méndez, 30 points
3. Arnau Farré (Gas Gas), 25 points
4. Víctor Palomares (Gas Gas), 24 points
5. Haakon Pedersen, 20 points
Photo: JC Vazquez