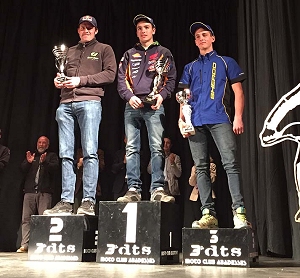 The three days of Santigosa, regarded as one of the spring classics in the World of Trial saw the Vertigo team out in strength with a total of five Combat prototype machines entering and finishing the tough multi day event without issue. Leading the green army, was brand ambassador and Sports Team Manager Dougie Lampkin who was making his first competitive outing on the new marque and to good effect, as he claimed second place overall. Making it two Vertigo riders in the top four, fellow factory rider Francesc Moret took a well-earned fourth spot in against a quality entry.

Making it an excellent weekend all round, James Dabill made a guest appearance on the final day of the event. Dabill had been absent on the opening two days of the classic competition due to the reigning British champion having played his part in helping Great Britain seal third place in the FIM X-Trial des Nations - an inter countries event - in Nice, France late on Friday night. The support and importance of the three days of Santigosa in Spain was further reinforced with both Adam Raga and Takahisa Fujunami playing similar cameo roles over the weekend.

Using this multi day event as part of his preparation in a bid to secure a record extending ninth win at next month's Scottish Six Days Trial (SSDT), Lampkin who has not ridden competitively since last year used his wealth of experience to secure the runners-up spot behind the 2014 FIM Junior World Champion and newly recruited Repsol Honda factory rider Jamie Busto. Equally Moret showed his pedigree and the potential of the new Vertigo as he came home ahead of several other internationally recognised riders.

After three long days of competition in the Spanish hills, with a good variety of mainly traditional sections each day, which were ridden under non-stop rules, Lampkin missed the win by a mere three marks. The margin could have been even closer if Dougie had not dropped two marks in the closing indoor type hazard on Sunday afternoon. However despite missing out on victory on his Vertigo debut, Lampkin was just pleased to have spent an extended amount of time on the prototype bike ahead of his next competitive outing in early May.

Dougie was in good spirits as he summed up his three days of Santigosa. "It has been a great three days of riding in some brilliant terrain and alongside some great people. Obviously I would have loved to of won, but being second to Busto is good enough really, considering it was the back end of last year when I last rode a Trial. I also want to say well done to Francesc, as he rode brilliantly too. For him to be so close to Jamie is incredible and is a massive positive both for him and the bike."

"On a personal level it has been a great three days of training ahead of the Scottish and a great chance to really ride the Vertigo Combat for so many hours in a row. The bike has been absolutely brilliant with no problems at all, in what has been a real test of reliability over the last three days. Also it really performed well and was easy to ride in many different types of sections, which says a lot about the set up and balance of the overall bike."

"We started with five bikes and all five have finished with out a glitch, which is simply amazing and a big boost for the project overall. Seeing all five bikes lined up in the parc-ferme each morning confirms the progress we have made as a team over recent months and puts us in a good place ahead of the SSDT, which will be the next big test for the prototype Vertigo Combat in terms of classic competitions."

Lampkin finished off by saying. "However before the SSDT, we have the small task of making sure that James (Dabill) is in good shape for the next British Championship round and the opening event of the 2015 FIM Trial World Championship in Japan, both of which are coming up later this month."