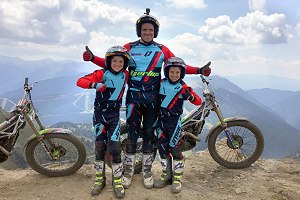 Red Bull athlete Dougie Lampkin - Vertigo was back to his winning ways as he took a well-deserved victory at the recent Arinsal two-day event held high in the mountains of Andorra in sweltering conditions. Despite only making a limited number of competitive outings these days, the forty-two-year old veteran campaigner showed that he had lost none of his sporting appetite as he topped the international field made up of almost three hundred and fifty riders from a wide variety of nations.
For the first time ever in his long sporting career at this level event, Dougie was accompanied by his two sons, Alfie aged thirteen and Fraiser aged ten, throughout the tough two days of competition as he put on a winning display in front of the next generation of the Lampkin family to make the occasion even more special. Alfie had the added responsibility of putting the prototype Vertigo Combat 125 through its paces, with the smaller capacity machine proving both its performance and reliability at the high-altitude venue.
Riding in the top category Dougie found himself up against much younger riders, some who are currently competing in the TrialGP series, but this did not faze the former twelve times FIM Trial World title holder as he used his vast experience to carve out an important lead come the end of day one and the first twenty observed sections that topped out at over two thousand five hundred metres.
Whilst keeping a fatherly eye on his two off spring who faired well in their toughest test to date, Dougie never lost his focus regarding the main matter in hand and further increased his advantage over the closing twenty sections on day two to secure what finally was a comfortable victory for the twelve times winner of the Scottish Six Days Trial.
Happy to return to the top step of the podium Lampkin spoke about his latest triumph. 'Winning always feels good, especially at such a big event as the Arinsal two-day trial. The organisers deserve a big pat on the back as it was a great weekend all round with some of the most spectacular scenery you will ever see on a trials bike. Being able to ride with Alfie and Fraiser in such an event was brilliant, and really made the experience even more special. They both did well as it was not an easy couple of days in the mountains and in such hot weather. The 125 prototype never missed a beat all weekend despite the heat and high altitude. Winning the Scottish back in May seems like a long time ago now, so to get this win under my belt as I start to prepare for the Scott Trial in October is definitely a good boost as to do the Scottish / Scott double again would be a great end to the year.'