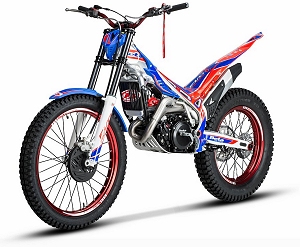 Beta Motors are pleased to announce the launch of the 2018 MY Factory Evo. Tese new bikes are perfect for trials riders who want a bike equipped with all the technical and aesthetic features that make it truly competition-ready.

Beta has launched three 2-stroke versions on to the market (125, 250 and 300 cc) plus a 4-stroke version (300 cc). The new Evo Factory range has undergone considerable refinement, ensuring an even higher performance along with Beta's proven reliability.

As Italy's only trials bike manufacturer, Beta is the undisputed global market leader and has introduced numerous technical upgrades across the entire Factory range. These upgrades join the new features already introduced on the Evo Standard MY 2018 bikes, putting the Evo Factory models at the very pinnacle of the trials market.
Article continues after gallery
ENGINE
As is the tradition on Evo bikes, the engine plays a pivotal role. It ensures user-friendliness and outstanding rideability without ever compromising on performance. The new Evo Factory's continue their dominance with the following upgrades:

2-Stroke
Black magnesium covers: Compared to the standard version, these provide major weight savings along with an eye-catching design.
Titanium head pipe: Boosts performance significantly and reduces weight.
Profiled clutch discs: Provides a more progressive feel under the most extreme conditions.
Combustion chamber with specially-designed volume and squish (300 cc only): Increases power improved torque. Painted red for a stunning 'racing' look.
New electronic control unit (ECU): Provides greater sparking power. This increases over-rev.
Red anodized engine oil plug.
4-Stroke
The 300 cc 4-stroke engine on the new Evo Factory MY 2018 is equipped with a lighter titanium silencer that increases power output down low while adding more delivery at the higher revs.

CHASSIS
(2-Stroke & 4 Stroke)

To make the new Evo Factory a true competition-ready bike capable of competing at the highest level across all categories, much of the design work has focused on the suspension. More specifically, the differences with respect to the Standard versions are as follows:


Fork with compression and rebound adjustment: Riders can fine-tune their fork action with a rebound adjuster at the top of the fork leg and a compression adjuster at the bottom.
Black anodized triple clamp: Provides greater lightness and rigidity.
Rear suspension with longer travel and adjustment of both compression and rebound: Settings have been refined even further thanks to more progressive hydraulics and a more stable setup that provides outstanding benefits in traction to the rear wheel, especially in pre-obstacle compression and launch. On the version for 2T (two-stroke) models, easier access to controls now allows quicker, simpler adjustment of the settings.
Progressive linkage: More sensitive and progressive, works with the new shock for better traction and more thrust over tall obstacles.
Lanyard-type kill switch: For safety and regulations of some club events.
Black anodized bar end plugs: To protect the grips and throttle tube in the event of a fall.
Red anodized chain adjusters.
Machined foot pegs in with non-slip steel teeth: Maximum boot grip even under extreme conditions and significant weight reduction.
Racing brake discs: More powerful braking, weight savings and a more aggressive look.
BrakTec brake and clutch pumps: For improved brake and clutch feel.
Rear brake caliper with brake pad anti-vibration system: Reduces rear brake squeal.
Michelin tires for all engine sizes, ensuring the best performance on the market:
X11 (for 2-stroke 250 and 300 cc and 4-stroke 300 cc versions): tires that ensure outstanding stability, as demonstrated by top riders in international competitions.
X-light (for 2-stroke 125 cc version): highly suited to a light bike/rider combination.
New graphics: For a true racing look

PRICE AND AVAILABILITY:
125cc 2T - £5995.00 - End of January
250cc/300cc 2T - £6245.00 - End of January
300cc 4T - £6295.00 - Middle to end of February