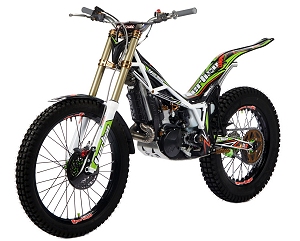 Vertigo Motors are proud to unveil the Vertigo Combat Dougie Lampkin Replica, a bike which has been developed as a direct result of the hat-trick of victories Vertigo and Lampkin have secured at the last three editions of the famous Scottish Six Days Trial (SSDT) an iconic event that remains the ultimate test of both man and machine. This new model follows the main Vertigo values, which are design and innovation, but this time it also includes extra input from Dougie Lampkin throughout his long and successful career. Dougie is not only a brand ambassador and development rider for Vertigo, but holds 12 FIM World titles and is also the holder of 11 SSDT wins. The Dougie Lampkin Replica will be a limited-edition model with only 150 units being produced Worldwide.

To understand and feel the exact same bike settings that are used by Dougie is a unique opportunity that many Trial riders from around the globe will truly appreciate. Vertigo is offering a bike with the same map and settings as used by Lampkin in the SSDT, the same ones that have given him three more famous victories in the last few years. Nobody knows better how to set up a bike than one of the most successful riders in the history of Trial, so this Lampkin Replica not only looks stunning, but also performs equally as well.

Visit www.vertigomotors.co.uk or call Nick 01756 611995 for more details and to reserve your limited edition Vertigo Combat Dougie Lampkin Replica.