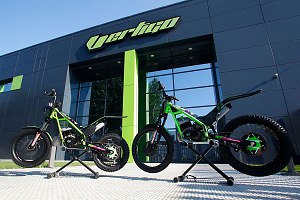 With the goal to keep on bringing innovation to the Trial industry, Vertigo Motors are pleased to launch their new Vertigo Mini Vandal 2019. This new model represents a great step forward for the brand as it adds a new line of motorbikes to the already established Combat range. With the Mini Vandal, Vertigo aims to reach the youngest riders in the sport with a small motorcycle powered by a two-stroke engine, currently a unique bike with these characteristics in the market. Ideal for the youngest members of the family, the Mini Vandal constitutes the perfect motorcycle for our future champions to make their first rides on a trials bike. This model will be available from now on through Vertigo's international dealers network in 50c.c. and 65c.c capacities.

The Mini Vandal has been built taking into account the requirements of younger riders. The weight system has gone through a methodical process, creating a bike weighing only 24kg, nearly half the weight of bikes with similar characteristics.

Security is also something that has been factored into the 2019 Mini Vandal models, minimizing to a great extent any risks that might cause problems. For that reason this kids model features many efficient security systems like the ones applied to the disc brakes, the crown or the automatic stop system via lanyard.

Another special feature on the Mini Vandal modela are the special trial tyres exclusively designed for Vertigo. These tyres offer a better feeling for young riders, as well as great performance regardless of the terrain they are riding.