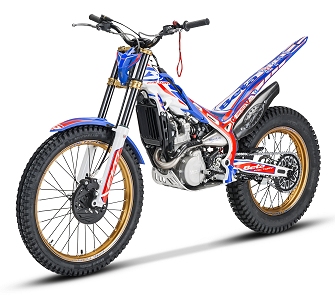 Beta have revealed the new version of the best-seller Evo Factory My 2021. The experience developed during the most important world competitions enabled the further refinement of the Factory's performance, creating a vehicle with a purely racing soul. The R&D department, working with the Beta Factory Team and the riders Matteo Grattarola, new Trial2 world champion, and Benoit Bincaz, has once again been able to raise the bar of the Evo Factory by updating the chassis set-up, giving greater control and a pitch-perfect reactivity on every type of obstacle. The Evo Factory My 2021 range consists of four different engines: three 2-stroke versions (125, 250 and 300 cc.) and one 4-stroke (300 cc.). Each of the four versions is characterized by its own distinctive personality, making the Factory range suitable for the riding characteristics of each type of rider.

ENGINE

Factory version engines differ from standard version power units as follows:

2-Stroke
Black magnesium casings: a more appealing look and greater weight savings to help create an even more agile ride.
Titanium manifold (with conical cylinder connector - 125 cc only): boosts performance and reduces weight.
Profiled clutch discs: ensure clutch precision under all riding conditions.
Cylinder with optimized timing charts: brings out the full racing character of the engine without affecting user-friendliness.
Cylinder head with specially designed volume and squish (300 cc only): for a further performance boost; what's more, the red paintwork enhances the 'factory' character of this bike.
Optimized control unit mappings: ensure excellent low-rev handling without compromising mid-high rev performance.
Black anodized engine oil plugs.
4-Stroke
The 300 cc 4-stroke engine on the new EVO Factory MY 2020 features a lighter, even higher-performing titanium silencer and a new electronic control unit. This increases sparking stability (thanks to higher electrical power) and consequently improves combustion throughout the rev range.


CHASSIS

From a design and chassis viewpoint, the new EVO Factory MY 2020 differs from the standard version as follows:
Fork with re-calibrated fork hydraulics and compression adjustment: ensures an optimal setting whatever the conditions.
Gold anodized machined-from-solid triple clamp: besides reducing weight and increasing stiffness, lets the rider shift the handlebar risers forwards or backwards to adjust bike set-up to perfection.
Rear suspension with longer wheelbase and adjustment of both compression and rebound: more progressive hydraulics allows for a more refined set-up that provides benefits in terms of pre-obstacle compression and push-off.
Rear suspension with new red spring and revised hydraulic calibration: allows greater control at low speeds, all to the advantage of balance and stability while driving.
Rear suspension with new 'spring guide' geometry: increases high-impact absorption through greater flexibility of the shock absorber plug, which now features a bigger containment space.
Linkage progression: even more sensitive and progressive, ensuring better responsiveness and traction.
Lanyard-type kill switch: ensures even greater riding safety.
Black anodized bar end plugs: protect the grips and throttle.
Black anodized chain adjusters: make chain tension adjustments extremely precise.
Machined-from-solid foot pegs in non-slip steel: besides clearly improving boot grip, these ensure significant weight reduction.
Galfer racing brake discs: deliver more powerful braking, weight savings and a 'racier' look.
BrakTec brake and clutch pumps: for improved braking modulation.
Rear brake caliper with brake pad anti-vibration system.
Gold Excel rims.
X-light tires: maximize grip whatever the riding conditions.
New look and new decal graphics: the racing spirit of this bike is enhanced by new graphics in the Beta Factory colors of red, white and blue, with gold trims.
AVAILABILITY
February. Prices to follow.