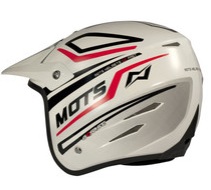 Gas Gas UK are pleased to advise that the NEW MOTS Trials Helmets are coming soon. These helmets are fantastic quality at very reasonable prices. To have a quality helmet at a good price is important and Mots have achieved this.
The 'GO Plain' and 'GO Fast design' are fibreglass and not plastic/polycarbonate.
The Carbon fibre is a 'full' carbon helmet at only £159.99!
GO Plain gloss white and matt black
RRP - £84.99
GO Fast design
RRP - £99.99
GO Carbon;
RRP - £159.99
For more details and photos, click here