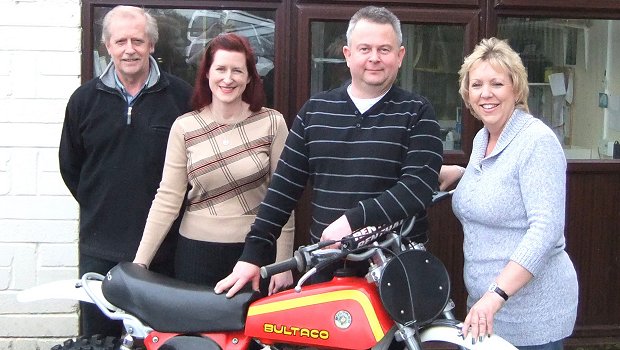 Ask anyone with any kind of knowledge of Trials what the most famous names in the sport are and the name of Sammy Miller has to be right up there. Trials Central are delighted to add Hampshire-based Sammy Miller Products to our list of site sponsors.
In the six years since Richard Jordan and Jackie Drake purchased Sammy Miller Products, much has changed and the team have taken great steps to bring the business into the 21st century, building on an already highly respected name in the motorcycle industry.
The main focus of this has been improving the online presence of the business and much time, money and endless effort has gone into developing their new website. Now you can browse, create an online account, place orders and pay for them securely, anytime – night or day! The team will always strive to post your items the day they receive the order and keep the postal charges competitive. Plus, if your order value is over £175.00 (currently) excluding VAT, it will be shipped free of charge! (UK mainland only).Check out their website at www.smproducts.co.uk

Managing Director, Richard Jordan: "With Brian and Susan by our side we pride ourselves on honesty and excellent customer service. We will do our best for each and every one of you, it does not matter how complex your request may be, we do our best to help, or at least point you in the right direction. As always we are very interested to hear from you with any feedback, good or bad, you may have.
Recently we have been busy increasing our range of products for Twinshock with items such as the TLR seat unit and mudguards. As well as moving forward with modern classics like TY Mono's and all early air cooled mono bikes with items such as the Yamaha TY250 mono tank cover.
Of course our established Pre 65 items that we are known for remain. In fact, we are proud to say that we have also added to this quality range with some exciting new items including an Alloy Air Filter, Oil Tank and Silencer which are all exclusive to SM Products!"

Trials Central Sponsors are a crucial part of keeping this website free for our users. We would ask that you please support them wherever you can.