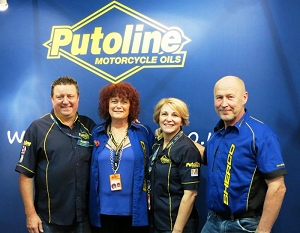 Malcolm Rathmell Sport (MRS) are pleased to announce they have chosen Putoline as their UK lubricant partner for all Sherco trials and enduro machines. Putoline will be supporting the MRS Sherco riders in the UK and MRS has also been appointed as an official Putoline off road wholesaler.
John Hayden - Putoline Distribution MD - "Sherco has a superb range of motorcycles and we are delighted to become their official UK lubricant. We have great respect for Malcolm, Rhoda and their team and we are really looking forward to working alongside them. Putoline is the largest off road oil brand in the UK and we feel that by supporting Sherco continues to reinforce our commitment within the off road sector of the industry".
Malcolm Rathmell - MRS MD - "We are really pleased to have finally come to an agreement with Putoline to become an off road distributor for them in the UK. We are looking forward to working with them with our Sherco trials and Enduro teams and also encouraging our Sherco dealers to stock and supply Putoline oil. It will be a pleasure to work with John and Sally and we look forward to good results with them in the future."