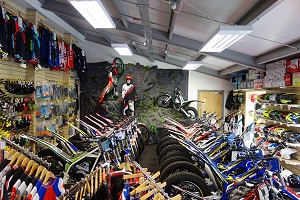 Every day is a different day here at Inch Perfect Trials. During the week we are busy with experience days, trainings, kid's parties, bike, parts and clothing sales and a lot more! We truly enjoy every single day due to the variety of tasks we go through and people we get to know.
Last weekend (23th and 24th of July 2016) was yet again very busy and eventful. We attended Llangollen international motorcycle festival. Llangollen is a small town and community in Denbighshire, so we had an opportunity to enjoy beautiful scenery of North-East Wales. This festival was even more special due to the fact that Giacomo Agostini, 15 times world champion flew over all the way from Italy. LlanBikeFest is run by a group of North Wales enthusiasts who are mad about bikes of all kinds, we consider it as a celebration of biking, not just a show. It was a great weekend full of trial bikes and fantastic people.
We sell many bikes on a monthly basis and have customers from all over the UK and abroad coming over to us for test rides and purchases. We welcomed two special customers this month, both buying electric bikes, one was 75 and the other one 80 years old; they have rung up since to express how thrilled they are with their Electric Motion Sports, and both commented how easy they are to ride compared with their previous petrol bikes. We truly believe that trial bikes can be enjoyed by anyone, younger or older generation.
We also host kid's parties, team building or corporate events. We guarantee a great day out with our expert coaches who always deliver the experience you are looking for from our unique training facility in the Ribble Valley. Beautiful scenery, breath-taking views, expert instruction and a hot lunch thrown in are just some of the things on offer here at Inch Perfect Trials.
Our stock is regularly updated with the latest bikes, parts and clothing; we are official main dealers for Beta, Sherco, Gasgas, Electric Motion and Oset. We have a wide range of quality new and used trial bikes from 12.5R Electric (suitable for a 2 year old) to 300cc, from a variety of manufacturers. Why don't you stop by for a cup of tea or a coffee and have a chat with one of our team members. Alternatively drop us an email at This email address is being protected from spambots. You need JavaScript enabled to view it. or give us a call at 01200 448 130.