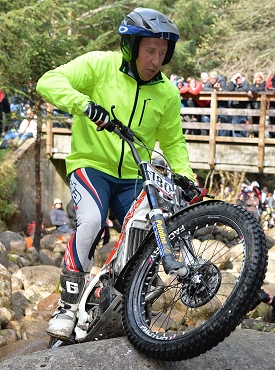 Pictured here at this year's SSDT, Craig is a familiar face on the British Trials sceneWith bvm-moto moving into its 4th year since the re launch back in 2014 it has been slowly building back up to one of the household names in the trials market. Because of this some changes are happening within the company to help improve its services for customers. Laurence of BVM states "Things are starting to get busier here at bvm now and with just the two of us we are struggling to move forward with the growth of the business, as all our time is spent dealing with orders and the day to day running of things. After many discussions we've found that Craig Talbot ticks all the right boxes and has the same goals and ambitions as ourselves for the future of bvm."
Craig, who once worked in the parts department at the old store still competes at national level occasionally scoring points, with no less than 11 Scottish Six Day trials under his belt with multiple first class awards. Competing in the British championships for a year before moving over to minding duties at World level for multi British and European champion Becky Cook along with other top riders. Craig is now helping up and coming supported rider Jess Bown, so will be at many events across the length and breadth of the country most weekends.
Craig "BVM has always played some part in my life. Some of my earliest memories are going on family days out to bvm to collect parts for my dads bikes, Its given me the opportunity to work in the sport I love and breath, I even met my wife through working at the shop. BVM means a lot to me on so many levels and to be a part of this place now means so much and I can't wait for the challenges ahead!".
As of the 1st of June Craig will be back at the store to help with bike sales, parts, clothing and accessories.
Thanks from all of us at bvm-moto for your on going support.