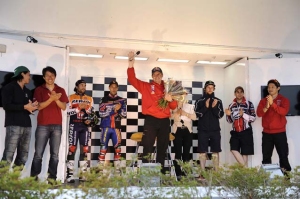 Adored and respected by thousands of fans around the World throughout his long and decorated career Red Bull athlete Dougie Lampkin was honoured for his achievements during his recent trip to Japan. Attending the thirteenth edition of the FIM Trial Grand Prix at the World famous Twin Ring circuit, Motegi now in his role as Gas Gas Trial team manager Lampkin was thrilled with the ceremony organised by the local organisers to mark his retirement from the FIM Trial World Championship earlier this season.

Dougie's loyal Japanese fans turned out in force at the end of the opening day of the Japanese Trial Grand Prix to show their appreciation for a rider who won no less than twelve FIM World titles during his reign. Lampkin gained a special place in the hearts of these passionate followers much thanks to his many victories at Motegi during the early years and the fact he was Montesa / Honda mounted over this period of his domination. The added reason that Dougie was always available to sign autographs and to pose for photos with his far eastern fans guaranteed their warm affection.

During the ceremony Lampkin was joined on stage by a host of riders, all of which have been his rivals over the years. Yet despite the competition that existed between Dougie and the other World Pro riders each stepped forward to offer their praise and appreciation of a man who has helped define the modern sport of Trial. The tributes included those from current FIM Trial World Champion Toni Bou and former Repsol Montesa team mate Takahisa Fujinami. The normally tough Yorkshireman was visibly moved as the likes of Albert Cabestany and James Dabill explained just how big an influence Dougie had been in their own careers.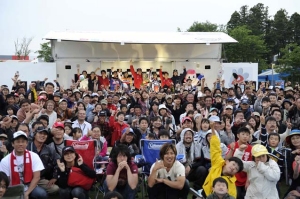 Speaking after the ceremony Dougie said. "Although I am not someone who is keen on having a fuss made of them, I have to say that I was really moved by how many fans stayed behind after the podium ceremony to be a part of this occasion. I also really want to thank the riders who have waited well over an hour during a competition weekend to be a part of this too."

"Throughout my career I always had great support each time the championship came to Motegi and that was despite the fact that although Fujinami was my teammate he was also one of my biggest rivals back then. Although the Japanese are normally reserved people they are very passionate about their motorsport and I would like to thank them for this great moment."

"I would also like to thank the local organisers and the staff at Motegi for creating this ceremony and to all the riders who said such kind things about me, as it means a great deal to me to hear things that I never even knew. Although I am no longer competing at this level, it feels great to still be a part of the Trial community and to be respected in this way."

Lampkin will return to the UK briefly after his two week tour of Australia and Japan before heading off to Austria for the infamous Red Bull Erzberg extreme enduro this coming weekend. Dougie's hectic schedule will continue the following week with TV filming duties ahead of taking part in the Day of Champions at Silverstone as part of the build up to the British Grand Prix and prior to travelling to Spain for the next round of the FIM Trial World Championship.