Motor Racing Parts and Adam Raga have presented to the market the first products of MRP1 by Adam Raga: the 7075 Aluminum Handlebar and the Aluminum Sprocket, both personally designed and tested by the multi-world champion trial racer, Adam Raga.

The 7075 Aluminum Handlebar by Adam Raga is the actual model that the racer uses in his Gas Gas Pro Raga. It has been thoughtfully designed for use in the highly competitive Modern Trial with the ideal dimensions, measurements, weight, and position.
The Aluminum Sprocket by Adam Raga is ultra-light weight with superior durability, mechanized in CNC. It has been created with an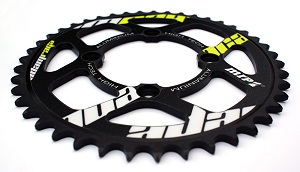 exclusive design that is mud-resistant and prevents chain slippage and is available in 42- or 43-teeth.

The MRP1 Handlebar and Sprocket by Adam Raga perfectly adapt to all Trial, Beta, Gas Gas, JTG, Montesa, Ossa, Scorpa, Sherco and Xispa models. Leveraging their new agreement, MRP1 and Adam Raga collaboratively aim to meet the needs of the market with distinctive products that use the latest in materials technology.

Motor Racing Parts, S.L. (MRP1) is a business dedicated to the engineering and production of high quality parts for the motor industry, specializing in ultra-light titanium, carbon, and aluminum design. For more information, visit the official website at www.mrp1.com