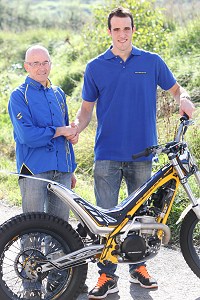 The young Spanish trials rider Pol Tarres recently signed a three year contract with Sherco, the motorcycle manufacturer that is located in Caldes (Barcelona). Pol Tarres at the age of 19 becomes the best bet for the future of Sherco in the sport of Trial. Pol will compete both nationally and in the World Championship, thus reinforcing the strength gained in recent years by Albert Cabestany and Alexandre Ferrer. With the signing of Pol, Sherco is confirmed as one of the most powerful teams in the sport, combining youth and experience on the same team. Pol Tarres will debut at the controls of the new Sherco ST2013 in the second round of the Spanish Outdoor Trials Championship which will be held in Cal Rosal on the 20th of November.
Pol Tarrés Roca (September 29, 1993), has accumulated a spectacular track record since he began competing at the age of seven, he won his first title at the trial of Catalunya in 2002. Since then his career has blossomed, he has won a total of 7 titles, Champion of Catalonia, Spanish Champion 3 times, European Champion 2 times and Junior World Champion in 2010.
Pol Tarres grew up in a world linked to the world of trial, no doubt marked by a family tradition epitomized by his uncle Jordi Tarres, a seven times World Champion, who has been the benchmark for the young Sherco rider. Pol is in excellent physical condition and his technique is refined and highly developed in spite of his youth, thus making him one of the young riders with the brightest future. Pol Tarres will receive direct Sherco factory support in this new endeavor and will work directly with Josep Paxau in the development of the motorcycles that he will compete on in the indoor and outdoor competitions.