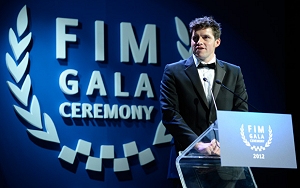 Dougie Lampkin joined an illustrious line up of current FIM World Champions and other two wheel legends when he was honoured for his sporting achievements at the recent FIM Gala that took place in Monte Carlo - Monaco. Lampkin who stepped down from the FIM Trial World Championship earlier this season after nineteen years of competing at the top level and after having gained twelve individual FIM World titles during his career gratefully accepted his award from FIM President Vito Ippolito.

Over his two-day stay in the Mecca of motorsport Dougie took part in a variety of activities that included a one to one interview with presenter Lisa Leyland and the unique multi rider press conference alongside other legends and the many 2012 FIM World Champions. During the main evening FIM Gala ceremony that took place in front of an audience of over five hundred guests and aired live to millions of TV viewers around the globe, Dougie was responsible for presenting both Toni Bou and Laia Sanz with their respective FIM gold medals for their achievements this season.

Interviewed on stage by FIM Gala host and fellow Brit Suzi Perry, thirty six year old Dougie explained how he is looking forward to his new and less competitive role within the industry as he switches from being a full time rider to becoming a sporting ambassador for the discipline of Trial and his various associated sponsors and partners. However, Dougie still plans to compete in selected Trial and extreme Enduro events in 2013 alongside his many other promotional commitments.

Speaking about his Monaco experience Dougie said. "It was a great privilege to be invited to and to be part of the FIM Gala, especially as it came in a year when I stopped riding in the FIM Trial World Championship. It was really nice to spend time with so many other FIM World Champions, as it is a really unique opportunity to have so many of us in one place at the same time."

"Obviously I was delighted to receive my own award and to be recognised by the FIM as a legend at such a young age, when you compare me against the other legends who were also present, but equally I was very pleased to be able to present both Toni (Bou) and Laia (Sanz) with their medals as they are two riders I have worked closely with over the years."

"Although I will be riding in only selected events in 2013, it is already shaping up to be another busy year when you take into account all my other commitments." Lampkin concluded.