Sherco UK Importers, Malcolm Rathmell Sport, are delighted to announce the signing of top lady rider, Emma Bristow.
Emma, who came second in the 2012 World Championship, has signed a two year full factory contract to compete in the Ladies World Championship and with MRS to promote and ride in all the top UK events.
Emma, who is training at this time in Spain with Albert Cabestany, made the following comments:
"The move to Sherco has been such a difficult decision for me to make but I could not be happier with how things are working out for me. I finally made the decision to sign with Sherco because they have offered me such a great change to my lifestyle and the perfect professional approach to improving my riding and achieving my goals.
Sherco have shown me how much effort and passion they put into all aspects of the company, from production of their bikes and the extreme 100% quality checks they make to the commitment and service they give to their World Championship Racing Team, which I am now proud to be part of.
The biggest influence for me changing to Sherco has been Albert Cabestany and I want to personally thank him and the Sherco factory for this fantastic opportunity. After testing the Sherco, top technician Josep Paxau confirmed that he would make me a 'very special bike' and I feel very honoured that he has agreed to do this and would like to also say a big thanks to him for his commitment to my ambitions.
Having spent the last two weeks in Spain I can already see just how hard Albert works in all aspects of his training and I feel so privileged to be given the opportunity to work with him during the coming winter months.
Whilst I am very happy about my new situation I am sad to leave the Ossa factory and Nigel and June Birkett at Ossa UK. I would like to thank them all for their incredible support over the last two years. They have all been generous and supportive and helped me in every way it has been possible, which accumulated in me obtaining second place in the Ladies World Championship."
Sherco now have an incredible line up of talent, headed by the top man himself, Albert Cabestany. In his wake and very much working under his wings will be Alex Ferrer, Pol Tarres and Emma Bristow. Emma will be spending the next three months training with Cabestany and learning all that is necessary to improve on her position in the World Championship.
In the UK, MRS are more than delighted with the line up they have for next year which will include the partner of Emma, James Fry. James has been a loyal MRS Sherco rider for seven years now and he is very excited about the coming season.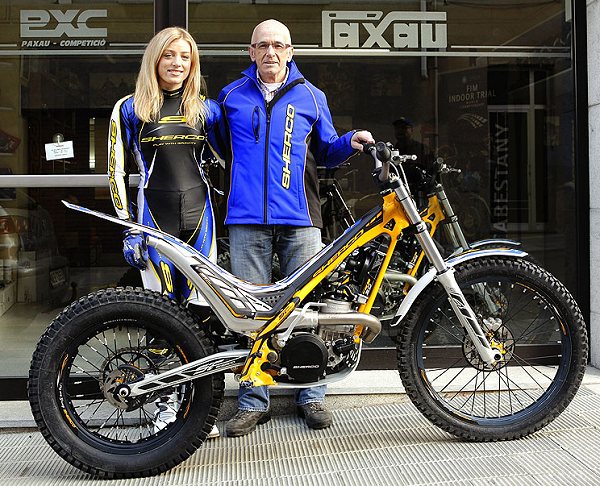 Latest signing for the 2013 season is young James Stones who will be flying the MRS Sherco flag under the AG Bikes banner in the youth A Class. Unfortunately he is too young to compete in the 2013 SSDT but is looking forward to the 2013 Scott Trial with a vengeance.
We would like to say a very big thank you to all our sponsors this year and in particular AG Bikes who have been so supportive to us during these difficult times. AG is a soleless Sherco dealer and along with his trusted mechanic 'Jacko' there is very little he doesn't know regarding Sherco.
A big thanks also to Michelin Tyres, especially to Duncan, who has worked with us in such a professional way during 2012. Lastly, to Neil at Doodsons Motosport who provides such a brilliant service to all off road riders for insurance. A market which was certainly not covered before their involvement with MRS. We never underestimate the help of sponsors because, without them it would be impossible to help all the lads compete in their sport.