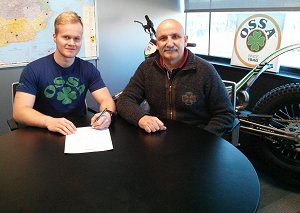 Håkon Pedersen, the 21 year old from Norway, has joined Ossa as part of their "Looking for new champions" program for the 2013 season to take part in the World Trial Championship.

This winter the young Norwegian will spend three months in Spain in order to train with Jordi Pascuet. He hopes that this training with his new and much better bike, the TR280i especially prepared by ORT, will help him to reach his goals for next season.

His plan is to participate in all WTC (junior) races in Europe and hopefully the races in Japan and USA. His goal is top 5 WTC in junior category. He will also likely compete in all the European Championship round and try to get the top 6 in the senior category.

His results in 2012 have been: Nr. 11 in the junior category of the World Championship, two times 6th place as best result; Norwegian cup winner; Nr. 5 in the X-Trial des Nations and in TDN with Norway.