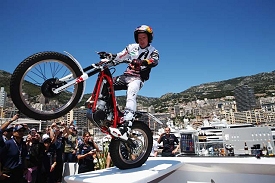 Dougie Lampkin - Gas Gas was once again back in the limelight as he took his place amongst the rich and famous at last weekend's F1 Grand Prix held in the beautiful seafront setting of Monaco. Invited by Infiniti Red Bull Racing to be part of their celebrations and activities during what is without doubt the most famous GP in the Formula One calendar, Dougie joined the illustrious guest list with his wife Nicola who were fortunate enough to frequent this special occasion.

Lampkin lined up with fellow Red Bull athletes Matthias Dandois - French BMX supremo and Britain's Parkour performer Ryan Doyle to entertain hundreds of VIP guests aboard the huge floating Red Bull Energy station that took pride of place in the prestigious harbour around which the F1 drivers race at incredible speeds. The steep and narrow steps that linked the upper and lower decks of the floating hospitality area pus the private swimming pool provided Dougie with the perfect platform to display his unique skills.

The 'by invitation only' onlookers watched in amazement as Dougie ascended the stairs before then leaping across the pool as part of his finale, which was met by huge applause as the former twelve times FIM Trial World Champion and longest serving Red Bull UK athlete took his bow. In between performances Lampkin soaked up the atmosphere of the weekend and closely followed the progress of the Infiniti Red Bull Racing team out on a track that famously winds it way around the undulating streets of the prestigious principality.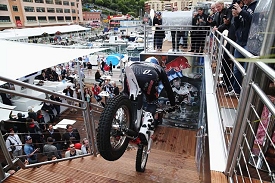 Having arrived back in the UK momentarily after his first visit to the F1 GP in Monaco, Lampkin only had twenty-four hours on home soil yesterday before he repacked his bags and headed off to this weekend's extreme enduro in Austria earlier today.

Dougie recorded an outstanding second place at last year's Red Bull Erzberg Rodeo against a field of specialist and younger competitors and has enjoyed his fair share of success at this ultra tough event over the years. However the thirty-seven year old veteran campaigner is also aware of the perils of this weekend's challenge having been airlifted to hospital on one previous occasion when the iron mountain took its toll on the seven times Scottish Six Days Trial winner.

Speaking about both events Lampkin said, "It was a real honour to be invited by Red Bull to be part of the F1 GP in Monaco. I have often watched the event on TV, but to actually be there and to be a part of it was something very, very special. From start to finish it was an incredible weekend and is an experience I will remember for the rest of my life. Being able to ride in such a unique setting was just incredible and if you see the photos I think they speak for themselves."

"Erzberg is going to be a big ask this weekend, as I have not been able to prepare fully this year due to my recent bouts of illness. Obviously like always I will be giving it my all and going all out to get the best result, but I also know it is an unforgiving race and one that can hurt you if you are not careful. One thing is for certain, it is going to be a bit more dusty and dirty than it was in Monaco last weekend," ended Dougie with a large Yorkshire smile.