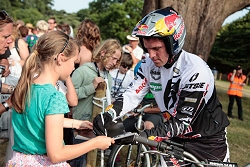 Red Bull athlete Dougie Lampkin - Gas Gas was back in the spotlight last weekend at the famous Goodwood Festival of Speed, as part of his packed 2013 schedule, which now sees him in Guatemala for a week long promotional tour. Demand for Dougie's services remains as high as ever with the twelve times FIM Trial World Champion having more recently been involved in two Red Bull Racing F1 projects as well as appearing on the BBC's Top Gear TV programme.

The Goodwood Festival of Speed remains one of Dougie's favourite events each year, and this year was no exception with him delighted once again to accept the kind invitation of Lord March to be a part of this incredible celebration of all things motorsport. Lampkin was present for all four days of the festival and wowed the packed crowds with his unique reportage of skills that propelled him to success during the height of his long sporting career.

Tens of thousands of fans got to witness Lampkin in action both in the GAS arena and out and about around the sprawling grounds that surround the wonderful Goodwood house, which included a special performance on the Infiniti stand. Dougie even delighted guests at the famous Saturday evening ball when he made an impromptu appearance on stage with the dance crew in front of the many celebrities that always pack this sought after occasion hosted by Lord March.

Lampkin returned to his native Yorkshire literally for a few hours on Sunday evening after four long days at Goodwood before then flying off to South America as an ambassador on behalf of Gas Gas. Dougie's week long stay in Guatemala has already included two demonstrations, a TV appearance, and will also see him conduct training schools later in the week as he looks to reinforce the Gas Gas brand in this important and emerging market.

Speaking before he headed off to Guatemala, Dougie said. "It's been an amazing few days once again, each year Goodwood seems to get bigger and better and the good weather this year certainly helped create a great atmosphere. Each day was an absolute blur, but it was good to be busy and to be appreciated by so many non-specialist fans. I am already looking forward to next year's Festival of Speed, that's just how good it has been."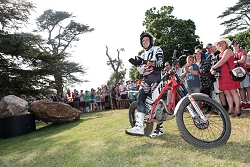 "Although something totally different, I am really looking forward to visiting Guatemala. I have been there once before when they had a Trial GP, but that was only a brief visit. Looking at the schedule they have planned, it is going to be a busy week, but hopefully it will be a positive week too. Not only for Gas Gas as a brand, but for motorcycling in general as it is important that we all do our bit to help develop both the market and the sport in these emerging and growing regions."

Lampkin ended by saying. "Apparently I am going to be allowed to have a few days off when I get back from this trip and before I then return for the British Trial GP later this month, when I will be back in my other role of supporting the Gas Gas trials team."
Images: James North / Red Bull